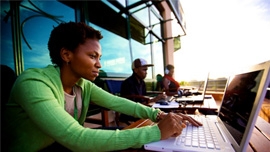 LIVE EVENT: African Statistics Day 2013!
November 18, 2013
Can Africa be part of the global data revolution? Join experts from UNECA's African Center for Statistics, the Africa Union and Ghana's National Information and Technology Agency to answer this question. Watch the event live!
Details
Date:

Monday, November 18, 2013

Time:

9:00 a.m. - 11:00 a.m. EDT

Watch live:

Livestream

Location:

International Finance Corporation
2121 Pennsylvania Avenue, NW
Washington, DC 20433 USA
Promoting Quality Data for Africa's Progress
As African economies continue their robust growth, governments, private investors, civil society and citizens are demanding quality statistics and data in order to make investment, policy, health and education decisions. Hosted by World Bank Vice President for Africa Makhtar Diop, this event will bring together a panel of experts from the African Union, UNECA and the governments of Benin and Senegal to highlight the need for increased financing for more and improved statistics gathering, take stock of the efforts countries and partners are taking to strengthen their statistics systems and consider how Africa can be part of the data revolution.