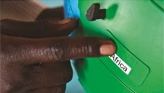 From Growth to Transformation in Africa
October 13, 2013
World Bank, JB1-080, 701 18th St NW, Washington DC
Join the BBC's Martine Dennis as she moderates a discussion focused on moving Africa from growth to transformation through shared prosperity with Ngozi Okonjo-Iweala, Finance Minister for Nigeria, Chief Economist of the African Development Bank Nthube Mthuli, Makhtar Diop, World Bank Vice President.for Africa, and other distinguished speakers.
Details
Date:

Sunday, October 13, 2013

Time:

12:30 p.m. - 2:30 p.m. EDT

Watch Live:

Livestream

Location:

World Bank
JB1-080
701 18th St NW
Washington DC
African countries have grown rapidly in recent years, and many have made meaningful progress in meeting the MDGs. But growth has done little to change the structure of African economies. Most of them still depend on primary commodities and have not become competitive in global markets for manufactures and services. Ending poverty and promoting inclusive growth and shared prosperity require that African countries move beyond growth and transform their economies by diversifying production, increasing competitiveness, boosting productivity, and upgrading technology, all to foster inclusive development and improve human well-being.
The seminar will consider how African economies can move from economic growth to economic transformation, as part of the post-2015 development agenda. It will present the policy conclusions of the 2013 African Transformation Report.
Moderator
Panelists
Ibrahima Cheikh Diong, Chief Executive officer, Act Afrique
Ncube Mthuli, Chief Economist and Vice President, African Development Bank
Ngozi Okonjo-Iweala, Coordinating Minister For the Economy and Minister of Finance, Nigeria
Yaw Ansu, Chief Economist, African Center for Economic Transformation