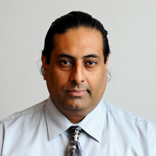 Sameer Goyal
Financial and Private Sector Coordinator, East Asia and Pacific
As the Vietnam Country Sector Coordinator for Financial and Private Sector Development, Mr. Sameer Goyal leads and participates in World Bank engagements relating to finance and private sector development. Goyal's current areas of focus include financial sector soundness and stability, financial inclusion, inclusive innovations, SME development and SOE reforms.

Goyal joined the World Bank in 1997 at the time of the Asia financial crisis and was assigned as a core member of the Thailand financial crises response team until 2001. Subsequently he led and participated in several operations and technical assistance programs in Philippines, Mongolia, Vietnam, Fiji and other Pacific Island Countries in the East Asia and Pacific region. His areas of expertise and engagement in the financial sector include supervisory/ regulatory reform and related capacity development, banking sector reform/ resolutions, financial inclusion, financial infrastructure development and pension systems reforms. He has participating in the joint WB-IMF Financial Sector Assessment Program (FSAP) in Philippines, Fiji and Mongolia. Sameer has also led and participated in several private sector development (PSD) projects in the East Asia and the Pacific Region assisting countries strengthen investment climate, business environment and fostering competition.

Before joining the World Bank full time, Goyal worked as a Research Assistant in Marketing at the McGill University and interned at the World Bank in 1996. During 1992-95, Goyal was a Research Associate/Economist at the Institute for Studies in Industrial Development focusing on research and policy work relating to industrial development, FDI and transport economics. He also worked as a Consultant on a ILO-ARTEP project on Industrial Development in India during 1986.

Goyal holds a B.A Honors Economics degree from University of Delhi, India; MA and M. Phil degrees in Economics from Jawaharlal Nehru University, India; and an MBA in Finance and International Business from McGill University, Canada.