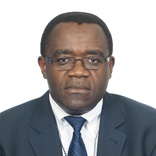 Paul Noumba Um
Country Director, Africa
Paul Noumba Um, a Cameroonian and French national, is currently the Country Director for Mali, Niger and Chad. Previously, he was the sector manager for private sector development and finance for West and Central Africa. Paul holds a PhD in Economics from Rennes University, and Master's Degrees in Engineering and Economics from France, and a BA in Engineering from the Cameroonian National Post and Telecom School. He joined the Bank in 1998, coming from France Telecom (Orange Labs), in the then-Energy, Mining, and Telecommunication Department, and then held positions at WBI, MNA, and since 2010 FPD sector manager in Africa.

January 1st, 2014: Country Director for Mali, Niger and Chad ( with residence in Bamako)

2010 - 2013 : Sector Manager for Private Sector Development and Finance for West and Central Africa (based in Washington and covering 22 countries)
Africa Regional Coordinator for Public-Private Partnerships (PPPs ) and member of the PPPs Experts Group of the World Bank ( GETPPP )

2007 - 2009 : Chief Economist - in the office of the Director of Sustainable Development for the North Africa Region of Middle East (based in Washington )

2003 - 2007 : Chief Specialist in Regulation Economy and Infrastructure and Capacity Building Program Officer on Public and Private Partnerships in infrastructure at the World Bank Institute in Washington

1998 : joined the World Bank as Senior Specialist of Telecommunications and Economic Regulation

1992 - 1997 : Manager at France Telecom ( Paris ), Teacher and Researcher at the École Nationale Supérieure des Telecommunications de Bretagne (ENST) - Brest ( France )

1987 - 1991 : Head of Department of Economic Studies - Ministry of Posts and Telecommunications - Yaoundé (Cameroon )

Education: Doctorate in Economic Sciences - University of Rennes ; Diploma of Advanced Studies in Industrial Economics - University of Rennes 1 and ENST Engineer Diploma.