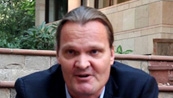 Onno Ruhl
India Country Director
South Asia
Languages:
English, Dutch, French, German, Spanish, Lingala, Romanian
Mr. Onno Rühl, a Dutch national, took over as the World Bank's country director in India on September 3, 2012. Before this, he was the director for Operations Services and Quality in the World Bank's South Asia Region where he was responsible for quality assurance, development effectiveness as well as core fiduciary functions for the Bank's $38 billion South Asia portfolio.
Prior to this, Mr. Rühl was the World Bank's country director for Nigeria. In this capacity he was responsible for managing the World Bank's $3.4 billion Nigeria portfolio, as well as for dialogue with all layers of government and civil society.
Earlier, Mr. Rühl was manager for results and learning in the World Bank's Africa Region. The unit worked to help partner governments improve their focus on management for results, monitoring and evaluation, and statistical systems. The unit also placed strong emphasis on increasing the results focus of World Bank financed projects in Africa.

During his World Bank career, Mr. Rühl has also been country manager for the Democratic Republic of the Congo, as well as lead private and financial sector development specialist in the World Bank's Africa and Europe and Central Asia regions. During this time, his most important achievement was overseeing the World Bank's support for the creation and financing of the African Trade Insurance Agency (ATI).

Before joining the World Bank in 1993, Mr. Rühl worked with the Netherlands Ministry of Foreign Affairs where he held the posts of Economic Secretary at the Royal Netherlands Embassy in Washington DC, Alternate Director on the Board of the Multilateral Investment Guarantee Agency, and Desk Officer in the Multilateral Development Cooperation Department. Mr. Ruhl started his career teaching economics in Alkmaar, the Netherlands.
AREAS OF EXPERTISE
Global Economy
Aid Effectiveness
Health
Public Sector & Governance
CONTACT INFORMATION
Phone : 91-11-2461-7241- 44