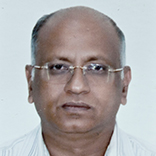 Nagaraju Duthaluri
Lead Procurement Specialist, Governance GP, Europe and Central Asia
Nagaraju is a lead procurement specialist with the World Bank's Governance global practice. He is a civil engineer with a master's in Business Management and has over 25 years of procurement experience. Before joining the region of Europe and Central Asia, Nagaraju worked as a Senior Procurement Specialist in the World Bank's New Delhi office. In the South Asia region, he worked in Sri Lanka (pre-Bank), Afghanistan and India. He has substantial experience with World Bank-funded projects especially in post conflict and fragile states.

Prior to the Bank, he worked for Ministry of Health, Timor-Leste for three years and Indian Railways for more than 17 years in various senior level positions and was responsible for procurement, warehouse management, and inventory control.

Indian Railways is one of the largest railway corporations in the world and among the pioneers in establishing public procurement systems in India.
AREAS OF EXPERTISE
Financial Sector
Public Sector & Governance
Private Sector Development