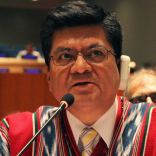 Luis Felipe Duchicela
Senior Social Development Specialist, Sustainable Development Network
Luis Felipe, an Ecuadorean national, holds a Master's degree in Public and Private Management from Yale University with emphasis in Finance, Corporate Strategies and Economic Analysis and also has a degree in Architecture and Regional Planning from the Universidad Central del Ecuador in Quito. He brings nearly 34 years of experience from the private, government and nonprofit sectors throughout Latin America.

Prior to joining the Bank, Luis Felipe was the Executive Director of the Amazon Conservation Association, a DC based NGO which focuses on biodiversity conservation and sustainable livelihoods in the Amazon regions of Peru and Bolivia where he travelled extensively. Prior to that he served as the Regional Director for Rainforest Alliance, first in Central America and Mexico, and more recently in Ecuador and the Andean Amazon Region (Colombia, Ecuador, Peru and Bolivia), where he was in charge of promoting Best Management Practices and Sustainable Livelihoods in Agriculture (coffee, cocoa, bananas and other crops), Forestry (Timber, Brazil nut and other NTFP's) and Tourism in fragile ecosystems of these countries. He also worked on several USAID-funded projects where he promoted sustainable agricultural production and exports from the Chapare region of Bolivia and then directed cocoa production in the Ecuadorean Amazon. Luis Felipe was also the first National Secretary of Indigenous Affairs of Ecuador in 1994, under the Presidency of Sixto Duran-Ballen, and managed to create the first multimillion dollar fund exclusively for Indigenous Peoples and Afro-Ecuadorean development with World Bank and IFAD funding. A substantial part of his professional career was initially in the private sector, mainly in Chiquita Brands, where he acquired experience in agro-exporting operations and business management in several countries of Central and South America. In Chiquita Brands Luis Felipe also worked in the Environmental Affairs division where he was in charge of conceptualizing and implementing a new model of housing and community development for the company's 14,000 workers in Central America. Luis Felipe is of Quechua descent and belongs to the Puruha nation in the Chimborazo province in the Andean Highlands of Ecuador.

In his current position as Senior Social Development Specialist, he will: (i) provide policy and technical advice on deepening the Bank's and its client countries' engagement with indigenous peoples (IPs) and other ethnic minorities groups; (ii) support Bank teams in planning and implementing activities to improve IP and ethnic minority group operational work and safeguard measures. Provide guidance on implementation of the bank's IP policy (OP 4.10); (iii) participate in the process of updating and consolidating the Bank's social safeguard policies, particularly in issues related to IPs and ethnic minority groups; and (iv) represent the Bank at important IP meetings and fora, including those organized under the auspices of the UN Permanent Forum on Indigenous Issues.