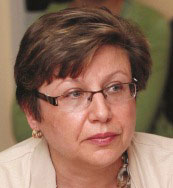 Kseniya Lvovsky
Country Manager, Albania
Europe and Central Asia
Languages:
Russian, English
Kseniya Lvovsky is the Country Manager of the World Bank Office in Tirana. Mrs. Lvovsky, a Russian national, holds a PhD in Mathematical Economics and has had a long and successful career with the World Bank.
Mrs. Lvovsky brings extensive experience working on policy issues, analytical work, and project management in Eastern Europe, Central Asia, and South and East Asia. Her expertise in natural resource management, sustainable agriculture, environmental health, pollution-control and infrastructure development - including energy, water and sanitation - are highly relevant to the Bank's assistance program in Albania.
Mrs. Lvovsky led the development of the first World Bank Group strategy on global climate change, which aims to help Albania face the challenges of adapting to climate change. In addition to her expertise in development issues, Mrs. Lvovsky is the author and the co-author of several publications and research papers. Mrs. Lvovsky is married and is the mother of two girls.
AREAS OF EXPERTISE
Urban Development
Energy & Mining
Environment
Climate Change
CONTACT INFORMATION
Phone : +355 42 280650 / 1