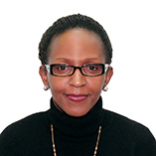 Joyce Msuya
World Bank Special Representative, Republic of Korea, East Asia and Pacific
Joyce Msuya has been with the World Bank Group for 16 years. Her experience within the Bank Group spans over public and private sector assignments in strategy (corporate, regional, country, sectoral), lending/investment operations, analytical work, and partnerships in Africa, Latin America and Asia regions.

At the World Bank Group, Joyce started her career in Health sector lending operations, then moved on to Development Economics Vice Presidency, worked on Private Sector Development (at the International Finance Corporation) and the World Bank Institute (WBI) covering East Asia and the Pacific, whilst based in the World Bank office in Beijing, China. Prior to joining the World Bank Group, Joyce worked at the University of British Columbia in Canada and in Tanzania on various public and private sectors assignments.

Joyce has authored and published a number of articles in the health sector including in peer-reviewed journals as well as a background paper for the 2004 World Development Report (WDR), Making Services Work for Poor People. In addition, she has served as invited guest speaker at various institutions including the Carter Center (in Atlanta, USA), Tsinghua University and Peking University (in China).

Joyce has degrees from Strathclyde University, Scotland; University of Ottawa, Canada; Executive General Management Certificate from Harvard Business School (USA); and a Public Health Certificate from Johns Hopkins University (USA).
AREAS OF EXPERTISE
Health
Private Sector Development