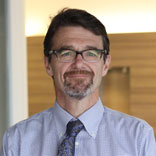 Jim Brumby
Sector Manager and Lead Economist, Indonesia
Poverty Reduction & Economic Management Network
Jim Brumby, an Australian national, is the World Bank's Sector Manager and Lead Economist for the Indonesia country economics program. He has held that position since August 2012.
Mr. Brumby has been engaged in public management reform at the state, national and international level for more than twenty-five years. He moved to the Bank in October 2007 to take up a lead role in public financial management reform in the World Bank's Poverty Reduction and Economic Management group (PREM). In August 2009, he was appointed to the position of Sector Manager, Public Sector & Governance, where he served as the unit manager of the Vice Presidency's staff working in these areas, which also include anti-corruption, legal and judicial reform, public financial management, and civil service reform, among others.
Prior to joining the Bank, he spent three years as head of the IMF's internal Budget Reform Division, and five years in the IMF's Fiscal Affairs Department working on public expenditure management, providing technical assistance to many countries, including Indonesia, Botswana, Bulgaria, China, Ghana, Malawi, Nigeria, the Slovak Republic, and Slovenia. He has also contributed to fiscal transparency reports on Italy, Malawi and the USA, and played a leading role in assessing Public Expenditure Management (PEM) systems in HIPCs, and in developing the framework for international assessments of public financial management systems through the PEFA (Public Expenditure and Financial Accountability) instrument.
Before joining the Fund, he was in charge of the OECD's program on budgeting and management in member countries, with responsibilities that included co-coordinating the work of the Senior Budget Officials' working party. He worked in the New Zealand Treasury for four years as head of the unit providing advice on public service reform. Prior to that, he was based at the central finance ministry of the State of Victoria in Australia. He has a Masters degree in public administration from Harvard University's Kennedy School.
Mr. Brumby has published numerous articles and books. Most recently, he was the supervising author on World Bank books Beyond the Annual Budget and Transforming Central Finance Agencies in Poor Countries: A Political Economy Approach
CONTACT INFORMATION
Phone : +6221-52993000