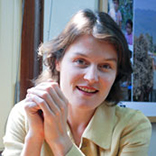 Genevieve Boyreau
Bhutan Resident Representative & Sr. Country Economist, South Asia
Genevieve Boyreau, a French national, is the World Bank's Resident Representative and Senior Country Economist for Bhutan. Based in Thimphu, she leads the Bank's engagement in Bhutan, while provides expertise on macroeconomic management, growth and poverty aspects. She has held the post since early 2013.

Ms. Boyreau first joined the World Bank in the Research Department in 2001 where she worked on the development of Chinese financial markets. She has published several working papers included in the National Bureau of Economic Research (NBER) and the World Bank and IMF working paper series. In September 2002, she joined the Young Professional Program of the World Bank and served in the East Asia and Pacific Poverty Reduction and Economic Management Department, with a focus on China and Mongolia. In 2004, Ms. Boyreau was then appointed Country Economist for Mongolia. In 2008, she joined the Bank's Operations Policy and Country Services (OPCS) Country Economics Department where she provided corporate support to teams designing country strategies and policy-based budget support operations. From 2009, she assumed the role of Senior Country Economist and Program Leader for macroeconomics, economic policy, public sector and poverty issues in Lao PDR.

Prior to joining the Bank, Ms. Boyreau held faculty and research positions at the Auvergne University and CERDI in France and had been a research fellow at the China Center for Economic Research.


AREAS OF EXPERTISE
Financial Sector
Poverty
Global Economy