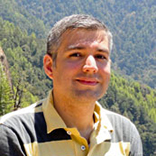 Frederico Gil Sander
Senior Economist, Poverty Reduction & Economic Management Network
Frederico Gil Sander is the World Bank's senior country economist for Malaysia, a position he has held since September 2011. He coordinates the work program between the Government of Malaysia and the World Bank, contributes to the analytical and advisory work on the country's transformation into a high-income economy, and leads the team that produces the bi-annual Malaysia Economic Monitor.
Mr. Gil Sander, who is based in the World Bank's Bangkok office, previously served as the country economist for Thailand. In addition, he also worked on debt and macroeconomic issues in Laos and Cambodia.
Mr. Gil Sander joined the World Bank in 2006. As a part of the Economic Policy and Debt department, he worked on debt relief for poor countries, capacity building for debt management, and debt sustainability analyses. During that time, Mr. Gil Sander engaged with debt managers in Central African Republic, Togo, Burkina Faso, Mali, Mozambique and São Tomé e Príncipe.
Previously, Mr. Gil Sander worked with investment bank Bear Stearns in New York where he issued bonds for emerging market governments and companies, and provided corporate finance advisory services to Latin American and European firms.
Mr. Gil Sander holds an MA and a PhD in political economy from Princeton University's Woodrow Wilson School of Public and International Affairs, and a BA from Yale University.
Frederico Gil Sander's blog.
AREAS OF EXPERTISE
Global Economy
Debt
Financial Sector