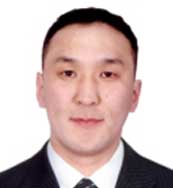 Erdene-Ochir Badarch
Operations Officer, East Asia and Pacific
Erdene-Ochir Badarch (Erdene) is an Operation Officer for rural development and environment programs at the World Bank, based in the Mongolia office. He joined the World Bank in 2008.

Erdene is responsible for supporting the Bank's rural and environment programs in Mongolia, including providing support to task teams and maintaining close dialogue with client government. He also works with urban team to strengthen Ulaanbaatar city's financing and planning capacity.

Erdene holds a master degree from State University of Education on Environmental Education Studies. Before joining Bank he worked (1999-2001) in World Vision as project manager of Community Forestry project and helped establish tree nurseries in rural Mongolia. He also planted more than thousands of seedlings for restoring forest. He also worked in environmental NGOs Mongolian Nature and Environment Consortium (MNEC) between 2001 and 2008 and as a consultant on Mongolia's environmental issues for a number of international organizations. Erdene is currently enrolled in Master Degree Course for Sustainable Development at School of International Training (SIT) Graduate Institute, Washington DC, US.

He worked with people in ger districts of Ulaanbaatar and helped improve their livelihood through establishing tree nurseries of more ten different species. He likes to say that to reduce the poverty "one need to walk and work with them".
AREAS OF EXPERTISE
Agriculture & Rural Development