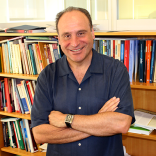 David Rosenblatt
Economic Adviser, Development Economics and Chief Economist
David Rosenblatt is an Economic Adviser in the Office of the Chief Economist at the World Bank. In over twenty years at the Bank, he has divided his time between operational work in the Latin America and Caribbean region and the World Bank's Chief Economist's office, where he has served four Chief Economists.

He has worked as a country economist at the junior, senior, and lead levels covering a geographic scope from Argentina to Mexico, and multiple countries in between. He has led teams for numerous policy-based lending operations, analytic reports, and country strategies. In addition to his operational and corporate work, he has contributed a number of research papers.

David has a Ph.D. in Economics from the University of California, Berkeley.
AREAS OF EXPERTISE
Global Economy
Public Sector & Governance
Inequality and Shared Prosperity
Growth