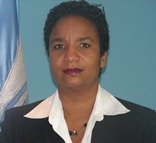 Camille Lampart Nuamah
Country Manager, Zimbabwe, Africa
Camille Lampart Nuamah, a Jamaican national, joined the World Bank as a Young Professional in 1997 in the Poverty Reduction and Economic Management Network Anchor. She was appointed country manager for Zimbabwe June 15, 2014.

An industrial organization economist, Nuamah worked for the banking sector and the Planning Institute in her native Jamaica before joining the World Bank. She has since held various positions in Africa, Europe, Central Asia, Latin America and the Caribbean regions as an economist, senior economist and serving as the country manager for both Nicaragua and Albania.

Nuamah holds a Bachelor's degree in economics from Barnard College, Columbia University (USA), a Master's degree in economics from Cambridge University (UK); and completed her doctoral studies in economics with the New York University (USA) in 1997.

She is married to Prince Nuamah, a Ghanaian national, and they have two daughters aged nine and 11 years.