Rotating the wheel to perform vehicular acrobatics around potholes could well have described the drive into Oshakan village in Ararat region not so long ago. On this local road, like on so many other roads in rural Armenia, a driver had to focus hard to ensure the vehicle reached its destination without a puncture or breakdown. Certainly no time to admire the local vistas!
Armenia's rural road network, in its dilapidated state, often determined the pace of life for many villagers – slowing communication within and between communities, making it hard to deliver goods to markets and even harder for people to access important social services.
Since 2009, however, Armenia's Government, with support from the World Bank, has been focused on solving these problems – by better connecting rural settlements to the main road networks, and thereby amplifying economic development opportunities for people in these areas.
Around 75 rural communities have so far benefitted from rehabilitated roads under this initial investment, which covers a total of 646 kilometers. This has not only led to a better driving experience for rural citizens, but has also created temporary employment for many local people and induced a potential revival in agriculture, tourism, and the economy overall.
The Lifeline Road Network Improvement Project is an important part of the effort to improve the access of rural communities to markets and services. So far, it has helped to rehabilitate 208 kilometers of rural roads, bringing the average speed to 40 kilometers per hour, up from 10kph previously.
"What can I say, or what else to add," says Hrayr, a stall owner in Oshakan. "It has changed our lives. Now with this nice pavement and smooth roads, my business has picked up, more people come and stop on their way to the church. This road was a blessing we got and I can only thank those who made it happen," adds Hrayr, smiling at Mnatsakan Aleksanyan, the person who was in charge of the road rehabilitation in Oshakan.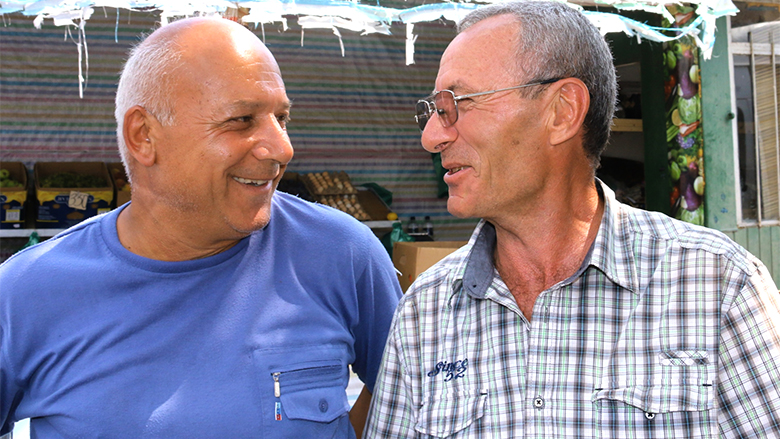 Aleksanyan, a technical expert in quality oversight from Armenia's Roads Directorate, recognizes that, while significant progress has been achieved to date, there is much more to be done – in particular with regard to road safety.