In Moldova: Transparency in Taxes, Titles and Transactions
New techonolgy and support from the World Bank help the government cut red tape and streamline bureaucracy
July 3, 2014
15 minutes
is the average time it takes to file an application to the State Civil Acts Registration Agency through the website.
Like many former Soviet Republics, Moldova is struggling with the legacy of a vast bureaucracy. But in a new push, the government is working toward a more open, less cumbersome bureaucracy. Modern technology and the country's decision to move closer to the European Union mean changes designed to empower citizens, improve government services and help businesses grow.
About four years ago, the government began work on a breakthrough Governance e-Transformation project. It gives Moldovans around-the-clock access to government documents and public services. And by creating an electronic trail, it ensures transparent decision-making. It also results in speedier, more efficient service.
Vitalie Coceban is the Executive Director of the state-owned business FiscServInform, which develops and installs new technologies and e-services for the state tax service. He says one of the goals of the project is to create a digitally advanced society. "This transformation helps in shifting from old patterns that existed in our society in the past, based purely on administration, to a new pattern, which is now based on providing better services to people," Coceban says.

This transformation helps in shifting to a new pattern, which is now based on providing better services to people.

Vitalie Coceban
FiscServInform
e-Government for the People
Stela Mocan runs Moldova's first e-Government center. She says about 80 services for citizens, businesses and the government are offered via e-Governance instruments. These are e-Declaration, e-Factura, e-Licensing and e-Cazier among others. As of April this year, she says, her center set a new record for the number of applications businesses submitted electronically for licensing issues. "Our e-Licensing uptake rate reached over 60 percent in March. Out of the 606 applications submitted by economic agents to the Licensing Chamber, 378 applications were submitted on-line," she says.
Moldova's IT sector contributes about 10% to the country's GDP, so it is a perfect place for e-government services in general. It is a relatively plugged-in place: mobile penetration is high at 120%, meaning that there are more phones in circulation than there are people in the country. And it boasts one of the world's fastest Internet connection speeds. About 60% of all Moldovans have computers and over half of them have access to the web.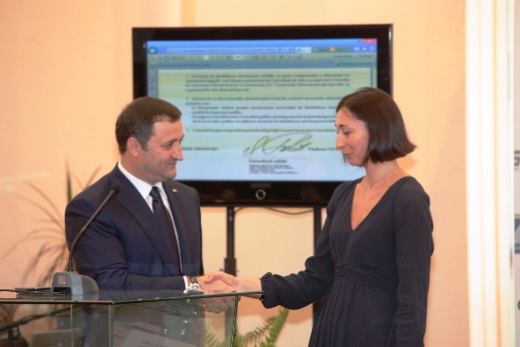 Given this, the e-Government project is relying on mobile digital signatures (MDSs), which are one of the foundations of the government's 2020 strategy. An MDS allows a user to use a mobile device, like a phone, to do business. With a MDS, and a valid PIN number, a person can do banking, apply for a license, pay taxes and conduct business from anywhere. Many businesses already rely on MDSs, but public services such as e-licensing have just started using it.
Sergiu Speian, an IT engineer, hates queuing and recently sent his application to the State Civil Acts Registration Agency online. Filling in forms and paying using his e-signature took him just about 15 minutes.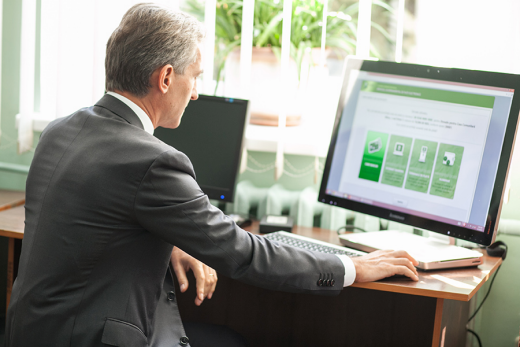 By 2016, the authorities hope at least one-quarter of all Moldovan citizens will use public services online or through mobile devices, and, like Sergiu Speian, that means they will free up time to make the creative decisions that will ignite their businesses.