Human Pandemic Influenza Preparedness and Response
Nicaragua Health System Strengthening
October 11, 2013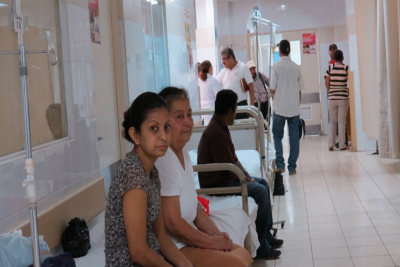 The grant provided training for 11,500 professionals, 15,090 heath workers, equipped 17 laboratories and outfitted 100 percent of local health facilities with drugs relevant for the treatment of people most at risk of secondary infection related to human pandemic influenza. Essentially, the project helped to strengthen the local health facilities capacity to properly prevent, detect and treat cases of human pandemic influenza.

31
hospitals with staff certified in Human Influenza A\H1N1 control
Challenge
Following the outbreak of the new A/H1N1 Human Influenza strain in Mexico, the virus quickly spread into the Central America region. Nicaragua was among the more severely affected countries in the region, with more than 2,152 confirmed cases of the A/H1N1 Human Influenza, and eleven official deaths, when WHO declared a worldwide pandemic in 2009. Important constraints faced by Nicaragua at the time included uneven quality of services, limited laboratory, diagnostic and surveillance capacity, poorly trained staff and inadequate supply of drugs.
Solution
Project design focused on reducing the risk of illness and case fatality, particularly among high-risk groups. Thereby a substantial part of the grant was invested in relevant drugs and a smaller part in the capacitation of human resources and facilities. What made this approach so interesting was the versatility of focusing on a number of essential drugs and not only on Influenza vaccines. In the end the pandemic was far less pronounced in Nicaragua than anticipated, but the grant still benefitted a very large segment of the population. An innovative feature was the procurement of drugs through the Pan American Health Organization's (PAHO) revolving fund mechanism, which required a waiver for certain Bank operation policies, otherwise PAHO's UN status would have prohibited the agency to enter a standard World Bank supply contract.
Results
The Project's main result was to strengthen the countries health system capacity and pandemic preparedness and response (between 2009-2012) by supporting the following improvements:
Nicaragua's epidemiologic emergency preparedness and surveillance capacity improved substantially, as reflected in the availability of appropriately equipped facilities, availability of relevant medicines in 100 percent of targeted facilities and trained personnel.
The capacity of the Nicaraguan Health System to effectively treat secondary infections in the case of human influenza improved, as reflected by 31 hospitals with staff certified in Human Influenza A\H1N1 control, and the number of health workers with training in diagnosis, treatment and care of influenza patients.
The population is increasingly aware of preventive measures against. The measure increased by 33 percentage points during one year of project implementation, surpassing the target of 80 percent by 13 percentage points. This finding is partly attributable to the rollout of the Bank supported communication and prevention strategy.
The extent of the effectiveness of these inputs to increase prevention, surveillance and emergency response is not yet measurable, although there are indications of improvement.
The direct beneficiaries were people at high risk for secondary infection, like pregnant women, children and elderly people, but through prevention and treatment the Project benefitted the general population.
Bank Group Contribution
The Project used US$ 5 million provided by the IDA grant. Funds were mostly used to purchase relevant drugs through PAHO's revolving fund mechanism, and to a lesser extent to equip laboratories and to capacitate professional and health workers in prevention, diagnosis and treatment of Human Influenza A\H1N1. Funds were also used for the preparation and dissemination of the A\H1N1 Human Influenza-related communication material; and to carry out preventive and social communication strategies through radio, local newspapers, and other media.
Partners
The Bank worked particularly close with PAHO to coordinate donor efforts. Using PAHO as a main supplier ensured rapid transactions, lower prices, high quality products, and reduced management risks. PAHO also played a key role in supporting national preparedness plans, surveillance and training. There is an active partnership among key development partners in Nicaragua's health sector wide approach. Periodic meetings led by the Ministry of Health help coordinate investments and analytical work.
Moving Forward
The Project was designed and executed as a crisis and emergency intervention, and a follow up operation was not intended. However, the Improving Community and Family Health Care Services Project (P106870) continues to support Nicaragua's response to public health emergencies through its Component 2: Creation of a Contingency Fund for Public Health Emergency. In case of a declared emergency or crisis, this Component becomes effective, thus recognizing the unpredictability of natural disaster, crisis, and epidemic in the region, and allowing for a much more agile response. This Component will benefit from the improved surveillance and response capacity built during this emergency operation.
Beneficiaries
Interviews with 60 heads of households were carried out throughout the country in 2012. While the sample is not statistically representative, it provides insights about the effect of the communication strategy that was implemented under the communication plan. Key findings are listed below:
95% of respondents could identify symptoms of influenza.
93% could correctly identify ways of transmission of influenza A\H1N1.
98% of respondents were familiar with ways to prevent influenza infection.
87% of respondents could identify correct behaviors in case of influenza infection.