Renewable energy in rural Argentina
Supporting sustainable business operations for electricity supply
October 10, 2013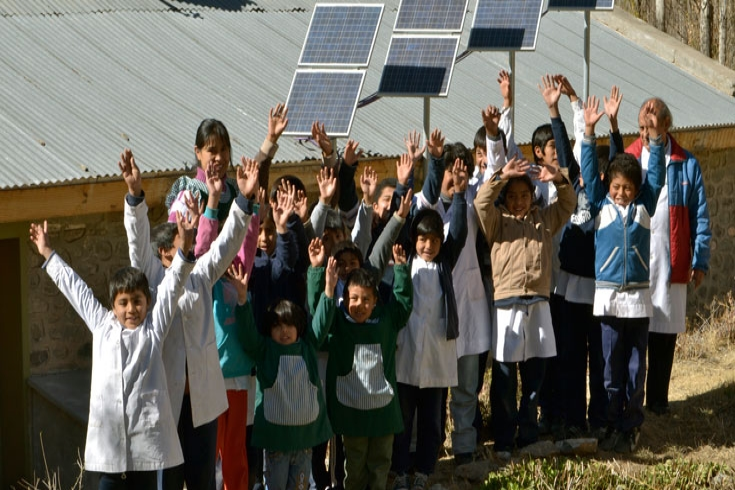 Argentina has delivered renewable energy services to more than 27,000 low income households located in dispersed rural areas of fifteen provinces, while establishing a sustainable and flexible concessions delivery model.

21,000
solar home systems for households were installed in remote rural areas.
CHALLENGE
By the late 1990s, Argentina had made important progress in developing a competitive electricity market. The power sector had been unbundled and a well functioning regulatory system was established together with a privatization process. These measures, however, were largely oriented to benefit the urban population. There was much yet to be done to address the needs of the poor rural population. The main challenges were:

Providing electricity in dispersed areas implied high investment costs.
Provincial Governments had limited financial capability and weak regulatory agencies.
Around 2.5 million people lived in dispersed rural areas with no access to electricity.
SOLUTION
The Renewable Energy in the Rural Market Project supported the provision of reliable electricity services in dispersed and poor areas using renewable energy technologies, establishing for such purpose a nationwide delivery model of concessionaries and strengthening provincial regulatory agencies. By replacing diesel electricity generation and the use of candles, kerosene and gas cylinders with renewable energy systems, the project's Global Environment Facility (GEF) component helped remove barriers (information, high initial costs and institutional weaknesses) to the development of renewable energy and reduction of greenhouse gas emissions. The project facilitated the installation of:

Solar home systems in dispersed rural households.
Small off-grid electricity generating units based mostly on solar.
Small wind turbines and mini-hydro plants in villages.
Renewable energy systems to provide electricity to provincial public institutions (schools, medical centers, etc.).
During the first years of implementation, the project faced an unexpected severe economic crisis, characterized by sustained fiscal austerity and reduced budgets. This challenge delayed the project's implementation and called for a revision of the project design. The project delivery mechanism was amended so as to incorporate greater flexibility on private and public technological and institutional options.

Reduction of greenhouse emissions by 3,200 tons of CO2 equivalent.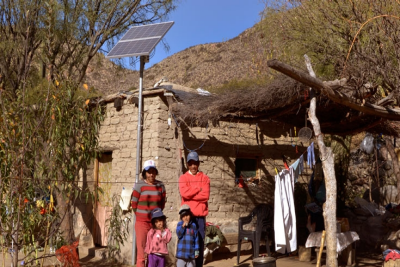 RESULTS
The project focused on the rural poor and promoted the development of environmentally sustainable renewable energy. The project's main achievement was the establishment of a national sustainable and replicable delivery model for renewable energy based on a strong partnership between the federal and provincial Governments. This model is helping to reduce poverty, improve the quality of life of thousands of rural households, and enhance education and other public services. Key project outcomes were:

Installation of 21,000 solar home systems for households in remote rural areas.
Installation of 2,100 solar home systems for schools, medical centers and other public buildings.
Provision of mini-grids to 2,400 households.
Installation of 410 solar thermal applications (mostly water heating) in schools.
Installation of 3,600 kW in solar home systems and 1,050 in wind home systems.
Reduction of greenhouse emissions by 3,200 tons of CO2 equivalent.
Fourteen operators (concessionaires), public and private, working under the project.
WORLD BANK GROUP CONTRIBUTION
The project originally comprised a Bank loan for US$30 million plus a GEF grant (US$10 million equivalent, approved in March 1999) to cover investment costs and technical assistance. A second Bank loan for US$50 million was approved in 2008, once the country had recovered from the crisis of the early 2000s. The original project had established a positive track record and there was a high and growing demand for its rural access outputs.
PARTNERS
The Bank and the Global Environment Facility (GEF) supported the Secretariat of Energy and its coordinating unit in the design and implementation of the project. A strong partnership was built during implementation among the Bank, the Federal Government and Governments of fifteen provinces that shared funding and implementation responsibilities.
MOVING FORWARD
The project has succeeded in installing renewable energy systems for thousands of households. The Government is working on a follow-up operation that will guarantee continuity and further institutional strengthening.sustainability of this effort relies on a strengthened regulatory framework that provides the right incentives through cost-based tariffs and subsidies and an effective operation and maintenance. These challenges are being addressed based on the good experience of those provinces that had earlier reached the operational stage. Given the positive project outcomes and the increased demand for its services, the Government is working on a follow-up operation that will guarantee continuity and further institutional strengthening.
BENEFICIARIES
The project provided reliable electricity to more than 27,000 rural low-income households (around 100,000 people in fifteen provinces) who did not have access to any modern or efficient source of energy. The project also delivered renewable energy services (water pumping, hot water) to about 3,000 public buildings, mostly schools. In doing so, provincial regulatory agencies and private and public concessionaires have been strengthened. The project also provided global benefits through the reduction of greenhouse gas emissions, although on a relatively limited scale.

The Government is working on a follow-up operation that will guarantee continuity and further institutional strengthening.