FEATURE STORY
Community Participation Spurs Education in Balochistan
July 21, 2014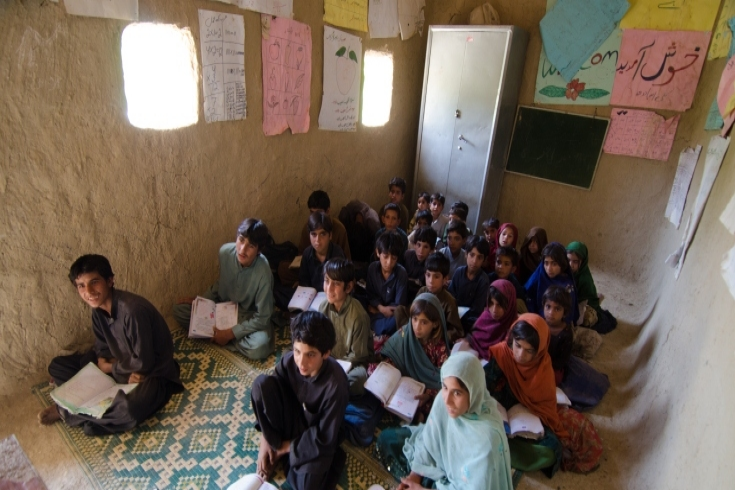 STORY HIGHLIGHTS
Eight of the ten least developed districts of Pakistan are located in Balochistan, a province which faces challenges related to stability, security and a dispersed population.
Only 47% of children 5-9 years old in Balochistan are enrolled in primary schools. The Balochistan Education Support Program through the Balochistan Education Foundation, supported by the World Bank, has been helping address this education emergency since 2006.
Through BESP, 26,000 students have enrolled in 633 Community Schools in rural areas, over 40% of them girls, with the schools sustained through the participation of the local community to run the schools.
Qili Mohammad Gul, District Harnai, Balochistan – Less than a quarter of Balochistan's residents live in urban areas. Most of the population lives in small and dispersed rural settlements– 5% of Pakistan's population spread over 43% of its total land mass. As a result lack of access to basic services poses a tremendous challenge, particularly in education delivery. National Survey Statistics for Balochistan show only 47% of its children aged 5-9 are enrolled in school, with the figure for girls just 35%.
Lagging enrolments can be traced to low community participation, poor quality of education in government schools, and the limited participation of the private sector in education service delivery. This demands the promotion of public-private and community partnerships in order to improve access to quality primary education, especially for girls.
In 2006, the Government of Balochistan launched the Balochistan Education Support Project (BESP), with support from the World Bank. The objective was to test models for education delivery to remote communities in the province. The program over the past eight years has successfully tested alternate service delivery models of Public-Private and Community Partnership.
The Balochistan Education Foundation (BEF), an autonomous body that distributes grants, acts as the apex body of BESP, working with implementing partners (IPs), NGOs working in the community, to establish Community Schools in remote areas. Through BESP, Community Schools have been established in areas where they are able to enroll at least 20 students. These formal schools are established where there is no girls' school within two kilometers. According to Aimal Khan, Research Officer, BEF, "633 Community Schools are now functional with regular attendance of students and teachers, eight years after they were first set up. These community schools were established with the assistance of BEF's Implementation Partners (IPs)" The Community Schools around the province have so far enrolled over 26,000 students, 42% of them girls.
Communities were initially skeptical about the sustainability of these schools. "Initially communities were not enthusiastic because there was a negative perception about the NGO-schools, that they would close down after the project ends," explains Khaliq Daad, Project Manager, IP, District Harnai. Thus, community mobilization and effective community involvement have been key aspects in sustaining these schools. "Every quarter a larger community meeting is held to inform the community about the funds provided to them by the BEF," says Daad.
The IPs mobilized the community to form Parent Education Committees (PECs), with members whose kids attend the school. PEC members are then trained in how to manage the schools Teachers are also recruited from within the community to regulate and monitor their attendance. Nearly 2,000 teachers have so far received professional development training.
To encourage parents to send their children to school there is no condition for wearing uniforms in the schools. Abid Ali, a teacher at the Community School in Qili Mohammad Gul, spends time on developing learning materials for students after hours. He received training which has helped him teach in a multi-grade setting. "Students start gathering early for the morning assembly, they get involved in learning activities, national day events and show keen interest in subjects like science and mathematics. And all of them are just too excited about the new school building to be absent," says Abid, reflecting the 85% student attendance rate observed so far.

We ensure enrollment, attendance and maintenance because this school was our need and our choice and we don't want it to shut down. We don't want our children to stay out of school and lag behind the world.

Hafiz Javed Iqbal
Parent Education Committee Member, Qili Mohammad Gul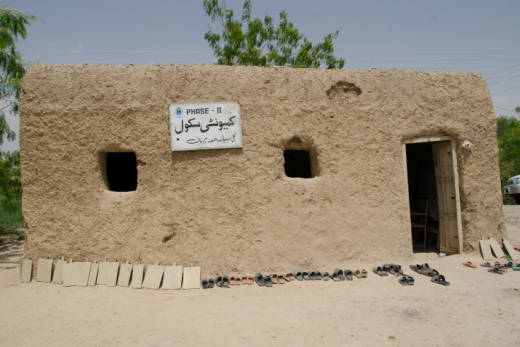 On school enrollment and gender disparity, Daad clarifies, "contrary to popular belief, girls education is encouraged here in District Harnai. More girls are sent to school than boys who usually help their families, tend to the fields or in raising cattle. In the community school of Qili Mohammad Gul, Tehsil Shah Rag, almost 80 students have completed middle school. Sixty per cent of them are girls."
Under BESP, if the Community School sustains for two years and donates land to the PEC, the project provides funding through BEF for a permanent school building. Appropriate construction design is approved in keeping with safety and quality standards, and technical assistance is provided by the implementing partner.
Hafiz Javed Iqbal, a PEC member of the Community School has two daughters who have passed out from this school while his son is still studying there. "When we provide premises and run this school by arranging and employing a teacher and maintaining a financial account for funds provided to us by the BEF, we feel the responsibility," he says. "We ensure building maintenance and student enrollment because this school was our need and our choice and we don't want it to shut down. We don't want our children to stay out of school while lagging behind the world."