FEATURE STORY
A Hydropower Project brings Development to Himalayan Villages
August 6, 2014
STORY HIGHLIGHTS
In Himachal Pradesh, India, a newly completed project is showing that hydropower projects can generate electricity with a minimum impact on the environment.
The project has brought much-needed development and cash benefits to the local people.
It has also set new standards for the disposal of construction debris in a way that does not deface the mountainsides or obstruct the river's natural flow.
A growing economy like India is hungry for energy. With almost 60 percent of its installed capacity being contributed by conventional thermal power plants, the country is keen to move towards low-carbon energy sources.
Fortunately, India is rich in fast-flowing rivers that cascade down from the mighty Himalayas – the vast water towers of Asia - and have huge potential for generating clean and renewable energy.
But, building hydropower projects in the fragile, geologically-young Himalayas is not easy, and only a fourth of India's enormous hydropower potential has been harnessed so far.
This month, the Rampur Hydropower Project, situated high in the upper reaches of the mountain state of Himachal Pradesh, has begun to feed into India's electricity grid, providing much-needed additional renewable power for homes, hospitals, schools and businesses.
The run-of-the-river project on the Satluj is showing that, if done right, hydropower plants can indeed generate clean electricity with a minimal impact on the environment. The project, constructed by SJVN Ltd, a public sector developer, and supported by the World Bank, will generate 412 MW of low-carbon electricity.
It will also avert 1.4 million tonnes of CO2 emissions that would have spewed into the atmosphere each year had the same amount of power been generated through conventional coal-fired plants.
People – we can't grow without them
While India has long experience in developing hydropower, the Rampur Project has placed special focus on benefitting local communities and protecting the environment.
"Making local people stakeholders in our project is most important for us," said K.K Gupta, who led the project on SJVN's behalf of. "We can't survive without them, we can't grow without them."
Accordingly, the project has paid special attention to improving the lives of people living in region's remote mountain villages.
Displacement was minimal. The project built no new dam or reservoir, but carried water through a 15 km long tunnel drilled deep within the mountainside from an existing upstream power project to the new Rampur powerhouse.
Only 30 acres of private land was acquired. The 29 families who lost their homes were given land at places of their choosing, as well as the funds to build their dwellings anew.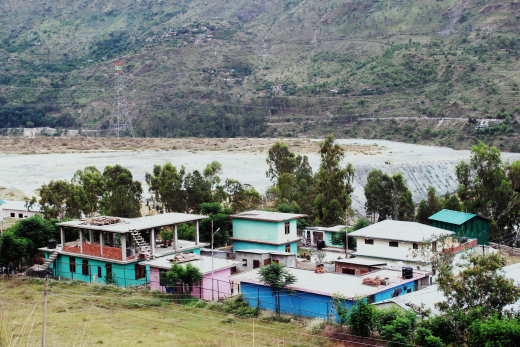 "Earlier we lived in mud-brick homes," said Roop Singh from Averi village. "Now we have 'pucca' (concrete) homes. Earlier we were lived on the outskirts. Now we are in the heart of town. And we have the additional benefit of being closer to the road."
The project has also provided affected people with generous compensation - more than five times the usual rate - and counselled them to spend the money wisely. Many families have used the money to buy more land, plant new orchards, or invest in cars and taxis to generate new sources of income.
In a first-of-its-kind benefit-sharing practice, the project will set aside one percent of its profits to provide all affected families with an annual cash income. These families will also have the right to receive over 100 units of free electricity each month, with the option of converting this into cash if they choose to do so.

Making local people stakeholders in our project is most important for us. We can't survive without them, we can't grow without them.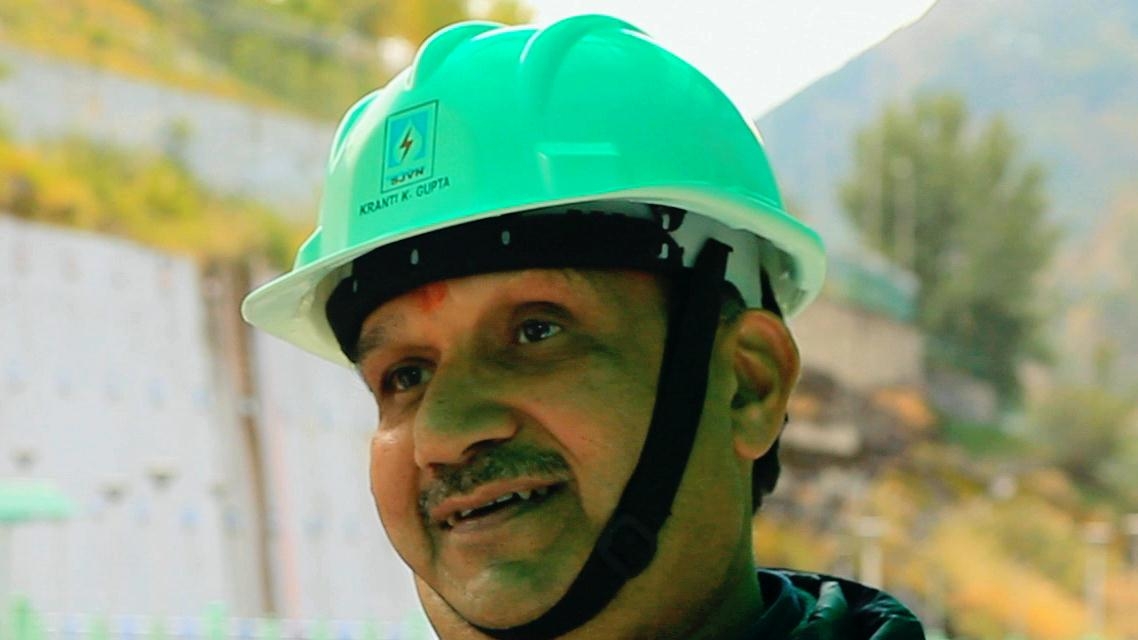 K.K. Gupta
Project Lead, SJVN Ltd
Bringing modern facilities to remote mountain villages
In addition to improving the lives of affected families, the project is bringing much-needed development to the wider community. Villagers have chosen the development works they wanted and the project has funded them out of a pool of money amounting to 1.5 percent of the project cost.
Bayal, the settlement nearest the Rampur powerhouse, now has a new dispensary, a post office, street lights, irrigation channels, concrete mountain paths, a new road, and a bridge across the river.
Temples have been renovated and community halls built. "We really needed a new village hall as there is little open space in our mountains for holding weddings and other community events," said Meenakshi Negi, the former village Pradhan of Bayal. "Now we can conduct wedding ceremonies with ease."
"The project has changed our lives," said Biju Rao. "Earlier the road was one and a half kilometers away. Now, if a person falls ill at night, we can call for an ambulance right at our doorstep. And heavy provisions and fodder can be carried home very easily."
With connectivity being crucial for remote mountain villages, the project has also constructed a new bus stand at Rampur town. Apart from benefitting the villages around, the bus stand will make it easier for tourists to attend the traditional local fair– a big draw for farmers, craftsmen, and performers who have long flocked to the annual event from far and wide, drawn by its renowned markets, music, fun and abundance of local color.
Outlying villages are not being left out either. A medical van has begun to do the rounds in bringing free medical care to the old and infirm, who would otherwise have spent a day in travelling to Rampur or the state capital at Shimla for treatment.
Building future generations
The project is also helping build new lives for future generations. Bright students as well as those from poor families are being awarded scholarships from project funds. "My family used to find it difficult to pay from my school books," said Manish, a high school student from Dutt Nagar village. "We have no such worries now."
Principal Krishan Negi too is pleased. "We were never able to provide our students with much. Now they have been given 'exposure' to the outside world, and we can provide them with a number of new facilities as well as opportunities to play games."
New livelihoods
To bring immediate benefits to the local people, village men have been given preferential employment in construction works, enabling them to earn very well by providing vehicles for project use, or by working as construction labor or drivers.
In addition, a number of young men and women have been given vocational training and on-the-job training; more than 250 youngsters are now equipped with skills to help them find better jobs.
Women have been taught to sew, enabling them to earn a living from home, and schoolchildren have been trained in computers. "Earlier, our children had to go to Rampur to learn how to use a computer," said Negi, the former Pradhan of Bayal. "Now they can do simple things on the computer at home."
Safeguarding the environment
The project has taken equal care in protecting the fragile Himalayan environment. Construction debris was disposed of in a manner that did not scar the mountainside or obstruct the river's natural flow; it was also reused in new construction.
Disposal sites are now being planted over with trees. "In ten years' time you won't be able to tell where the debris was disposed of," said Gupta, the project director, confidently.
To ensure the river's continued flow, more than 100,000 trees have been planted in the catchment area. And, a minimum flow of water is being ensured at all times to preserve the river's delicate aquatic balance.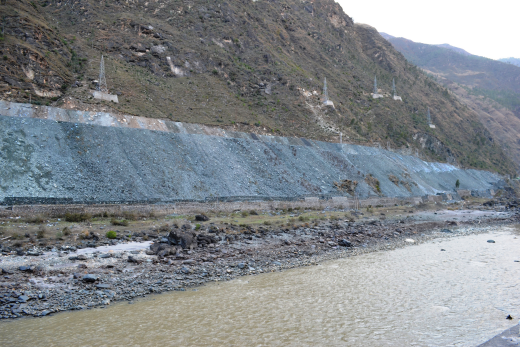 Benefitting the state and the people
While the electricity generated will flow into India's national grid, Himachal Pradesh, the host state, will also gain substantially. The state will receive twelve percent of the power generated free-of-cost, enabling it to meet the growing energy needs of its people.
Looking back over the decade-long journey, Gupta, the project director recounted: "The Rampur project has given us a huge sense of achievement. The new social and environmental practices are helping improve the hydropower industry's standards across India. And we, too, have learnt a great deal."