FEATURE STORY
Re-awakening Dreams and Making Aspirations Come True
June 2, 2014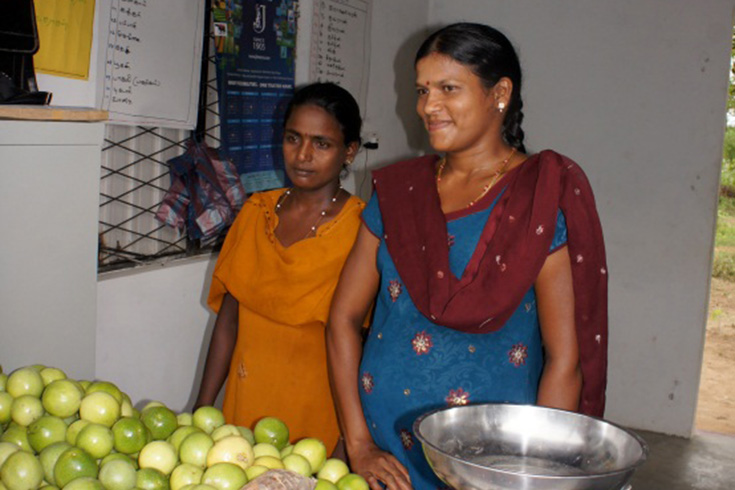 STORY HIGHLIGHTS
The Re-awakening Project reaches over 1,000 war-affected villages and has supported 283,000 beneficiaries.
Over 2,000 km of rural roads have been repaired and irrigated land increased by 54,000 hectares, helping villages recover and thrive after conflict and floods
Some 101,000 families have received low-interest business loans from village revolving funds, which are pools of money controlled by each community to provide easy, informal credits to local farms and small businesses, lifting livelihoods
May 9, 2014 - Life's little luxuries were an unimaginable indulgence to the villagers of Thalikulam, near the northern city of Vavuniya, when Sri Lanka's civil war drove the people here from their land. But now it boasts a beauty salon offering eyebrow shaping, bridal dressing and other "fancy" services.
The Abi Beauti Parlor was set up with the help of financial support from the World Bank's Community Livelihoods in Conflict-Affected Areas Project, known locally as the Re-awakening Project, but the real difference stems from the broader benefits of a rebuilt local economy.
"The project has helped the farmers a lot and we have repeat demand for loans," said 29-year old Jeyea Chithi, who runs the parlor. "That means people have money and can spend it on things like beauty." The village, which manages the fund itself and vets each loan application, charges one percent a month in interest, compared to other local sources of informal credit which can be five times as high. Families are held to account by their neighbors and the schemes have very high rates of recovery, ensuring the funds remain intact as a future resource for the community.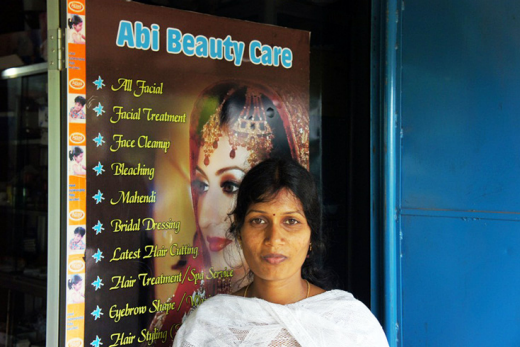 My daughter must study hard and improve her life because we have suffered a lot. I'm sure that she will get a good job.

R. Thavarna
The Farm's Treasurer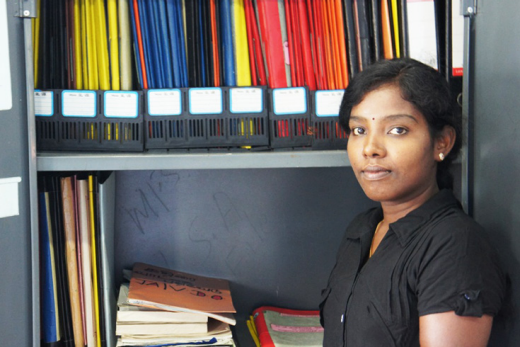 The beauty business, which cost R570,000 to get off the ground, including R145,000 contributed by beneficiaries and the local village development organization, generated over R250,000 in income during the 10 months to April 2014.
Blending support for local farmers and small businesses with investment in village infrastructure, the secret of the Re-awakening Project's success lies in the empowerment of local communities. They administer the revolving funds and generate their own village development plans, which represent a living account of livelihood needs and priorities in each place.
The project, whose World Bank contribution now stands above $120 million, began life in 1999 as a $27 million program to boost farmer incomes by repairing and upgrading the conflict-affected region's large irrigation schemes.
It was restructured in 2007 to focus on livelihoods after fighting made it hard to implement major infrastructure plans, and received its latest additional finance in 2011, when $38 million was added to help communities rebuild after devastating floods in 2010 and 2011.
Based on a Bank grant endowing each village with $60 per person, the revolving village funds provide simple access to credit, while villagers themselves decide how much gets allocated to lifting livelihoods, or is spent to widen a local road or repair an irrigation tank for their farms.
Improving access to markets for farm produce in this predominately rural area, while ensuring a steady water supply to extend cultivation to a second season, enhances the local economy and encourages small businesses to invest, reinforcing future prosperity.
Outside of Jaffna, the village of Janashakth has made so much progress that it decided to use some of the money to buy land for 20 local families whose homes had been destroyed.
Sushikala Kanagalingham, 30, is the local Community Resource Person, responsible for keeping track of the loans issued from the fund. She proudly shows off the neat records of the 185 loans issued for village families totaling R2.2 million, of which 96 percent has already been recovered.
This ownership has reinforced a sense of self-reliance, and several village families have gotten to the point that they can afford to send their daughters to study in university.
Back down the road in Killinochchi, there is also fierce ambition for a better life in the future. R2.5 million of the project's money was used to purchase and build a five acre community farm and shop here, which is now owned by 30 local women. As well as having an equity stake in the project, they are paid R600 a day to cultivate bananas, brinjal, yam, passion-fruit and papaya for sale to the local community. It made R40,000 in net profits during March and April.
R. Thavarna is the farm's treasurer. The 41-year old is the family's main bread-winner since her husband, a former combatant, lost his leg in the fighting.
Like all of the people in this community, her family was forced to flee several times during the course of the 30-year conflict, which only ended in May, 2009.
Before the communal farm was opened last year, she used to work as a laborer earning R400-R500 a day, but there was never steady employment.
Now she makes R6,000-R7,000 a month on the farm, which is more than double her former income.
But she has higher ambitions for 10-year old daughter Kayaluili, who has just won a coveted scholarship and can take her pick of the best local public schools. "My daughter must study hard and improve her life because we have suffered a lot. I'm sure that she will get a good job," her mother said.