FEATURE STORY
Pushing the Limits of International Trade Policy
April 28, 2014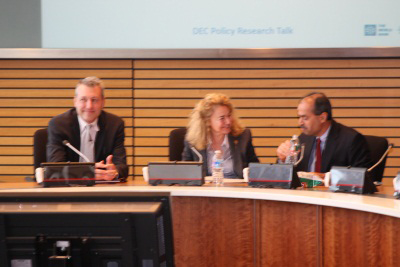 STORY HIGHLIGHTS
While tariffs have fallen to historical lows, non-tariff barriers have risen sharply over the last two decades.
The gains in openness of the last few decades proved to be exceptionally robust in the face of the shock of the Great Recession.
Trade policy makers face a new challenge in the 21st century: tackling the non-tariff barriers that arise at the intersection of trade and domestic policy.
Over the last two decades, tariffs in nearly all emerging economies have dropped substantially. In many cases, the average tariff rate applied by a given country has fallen below 10 percent, a historical low since the Second World War. Despite this clear downward trend, over the same time period the world has witnessed a commensurate increase in non-tariff barriers, partially offsetting the benefits of reduced tariffs.
These and many other findings on current and future challenges in trade policy were discussed by Chad P. Bown, lead economist in the World Bank's research department, at April's Policy Research Talk. The Policy Research Talk series is a monthly event held by the research department to foster a dialogue between World Bank researchers and operational colleagues.
"We know that as countries develop they inevitably become more integrated into the global economy, and trade policy becomes a key part of a successful development strategy," said World Bank Research Director Asli Demirguc-Kunt, who hosted the event. "But today's trade policy has become more challenging than ever to get right, particularly in the face of growing concern about globalization, jobs, and inequality."
Bown's research builds on the Temporary Trade Barriers Database, a unique set of data collected by the World Bank's research department that covers more than thirty countries' use of policies such as antidumping, global safeguards, and countervailing duties. The freely available database covers the period from the 1980s until 2012, and allows users to track the evolution of the frequency and incidence of temporary trade barriers.
Drawing on these data, Bown has demonstrated that even as tariff levels have plummeted as part of multilateral and regional trade agreements, trade policy continues to respond to political and economic shocks. For example, while India's average applied tariffs dropped from 35 percent in the late 1990s to 14 percent in 2012, it also enacted a sixfold increase in the share of products covered by temporary trade barriers over the same period. His research suggests that although there have been large gains in international cooperation in trade policy, further extending those gains may be progressively more difficult.

The future of trade policy is at the intersection of law, economics, politics, and domestic policy.

Chad P. Bown
Lead Economist, World Bank Research Department
On a more positive note, the current achievements in trade policy have proven to be highly durable. Again drawing on the Temporary Trade Barriers Database, Bown was able to track the evolution of trade policy prior to and during the Great Recession. GDP growth rates collapsed around the world in 2008–2009, with trade simultaneously experiencing what has been dubbed 'The Great Trade Collapse.' At the time, the media was filled with alarming reports about the potential for a downward spiral of protectionism. Bown's research shows that while import protection increased in 2009, the spike of new protection was relatively mild and has subsequently leveled off.
Having weathered the Great Recession, what are the next challenges that need to be tackled in trade policy? According to Bown, "understanding the linkages between trade policy and domestic policy is increasingly important" given the growth of non-tariff barriers to trade. He continued: "The future of trade policy is at the intersection of law, economics, politics, and domestic policy."
The World Bank has a critical role to play in helping developing countries navigate this increasingly rocky terrain. Through instruments like the Diagnostic Trade Integration Surveys, the World Bank can play an important role in helping countries assess the distribution of benefits and costs of signing on to various trade agreements. This knowledge can also help countries do a better job of extracting the benefits from international agreements.
Sudhir Shetty, Director of the World Bank's Poverty Reduction and Economic Management Department for East Asia and Pacific, also emphasized the role that the World Bank can play in supporting developing countries' integration into the global trade regime. Through its provision of data, research, and country-level analytics, the World Bank provides a global public good . And at the level of individual countries, it can also act as an honest broker with tailored advice, including for low-income countries that face pressure to join preferential regional trade agreements that may impose significant costs. Shetty also pointed to areas where further work is required, including tracking and understanding barriers to trade in services—an area of growing importance for a range of developing countries.