FEATURE STORY
New Road Provides Year-Round Access to Goods and Services in Eastern Afghanistan
January 7, 2014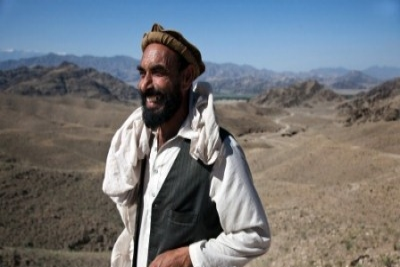 STORY HIGHLIGHTS
A new gravel road has improved the quality of life of villagers in a remote valley in Nangarhar province by bringing them access to basic facilities and services, and enabling them to sell their perishable produce quickly.
Built by the Ministry of Public Works, the road is part of the Afghanistan Rural Access Program which aims to give rural communities access to all-season roads.
The project, supported by the World Bank and ARTF, will improve and maintain thousands of kilometers of secondary and tertiary roads.
GARDI KAS VILLAGE, Nangarhar Province - Before a road was pounded into the stark landscape of this rubble-strewn valley in eastern Afghanistan, even the donkeys stumbled trying to reach city markets. Farmer Malik Qais says he would often adjust his donkeys' load of corn, melon, wheat, or vegetables, as they made their trek to Jalalabad, about 25 kilometers away, because even these nimble animals struggled over the jagged outcrops and steep terrain surrounding his village of Gardi Kas in Nangarhar province.
"Now this new road is very important to us because we can take cars to the city in just 20 minutes, when it would take many hours before," says Qais, 52. "Also, if people get sick, they can get to hospital on time, and we can easily do our shopping."
Construction of the 10.5-kilometer gravel road was completed in June 2012 by Afghanistan's Ministry of Public Works with funding from the Afghanistan Rural Access Program (ARAP). The program's objective is to enable rural communities to benefit from all-season road access to basic services and facilities. The program is funded by the World Bank and Afghanistan Reconstruction Trust Fund (ARTF), which have been supporting the country's development since 2003.
The program, which has three parts, aims to improve and maintain secondary roads (with $182 million funding), and tertiary roads ($130 million), as well as to assist with monitoring and evaluation ($13 million). Roads like the one to Gardi Kas village are a particular challenge as it's estimated that Afghanistan has a tertiary road network of 80,000 kilometers, of which only about 7,000 kilometers is accessible to motor vehicles in all seasons.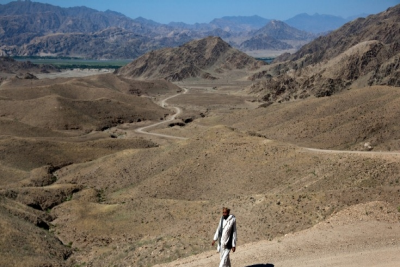 This very good road has solved a lot of our problems. Before, we had to go another way that took a long time. But now we are able to go quickly and make double the profit on our goods.

Malik Mukhtar
Village council leader, Gardi Kas village, Behsud District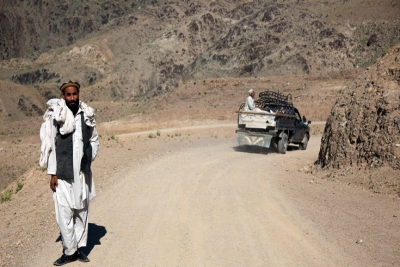 Agriculture a lifeline
Gardi Kas sits in a remote valley where about 5,200 people (or 1,200 households) still raise livestock and harvest many of the same crops grown by their forefathers. Agriculture is their lifeline making it essential that they sell their products in a timely manner, says village council (shura) leader Malik Mukhtar, 36. "This very good road has solved a lot of our problems," says Mukhtar. "Before, we had to go another way that took a long time. But now we are able to go quickly and make double the profit on our goods."
Mukhtar, who has seven children, says the women of his village also benefit from better access to shopping and prompt health care. "Sometimes, if the ladies are giving birth, it is very important for them to go in a car, otherwise bouncing on a donkey can make lots of trouble."
Qais, who has two wives and 16 children, says one of his daughters fell ill about three months ago. "It was night and we could put her in a car to get to a hospital, so she was fine," recalls Qais. "But I am thinking if there was no road, maybe she would have lost her life. Going by donkey takes too long and makes more problems."
Mohammad Qasim, provincial engineer for the program in eastern region, says security is the main challenge in the four provinces, including Nangarhar, which he oversees. "Most projects have security problems but we try to work with the heads of the community, talk to elders, show them the road projects and they arrange security for us," says Qasim. Still there can be issues. In one district, road projects have been repeatedly derailed by 34 improvised explosive devices, which also killed four people, says Qasim.
"There are some people who don't want to see progress for Afghanistan," says Qasim. "But these people come from outside, while local communities are mostly good. They have to live, so we make these roads for them."