FEATURE STORY
Trung Son Hydropower Project in Vietnam: Simple Wishes for A Better Life
December 23, 2013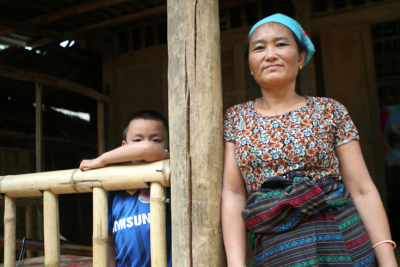 STORY HIGHLIGHTS
The Trung Son Hydropower Project is expected to supply affordable and clean electricity for Vietnam in an environmentally and socially sustainable way.
A community livelihood improvement plan is helping people in the project area to improve their livelihoods and increase their incomes.
The Community Livelihood Improvement Plan is part of a larger effort to improve living conditions and bring employment opportunities to the people living in the vicinity of this World Bank-supported project.
Meet Lo Thi Van. She is no ordinary woman. For many years she has been an active member of the Ta Ban village women's group and has built a small yet impressive farm where she raises pigs and porcupines and grows sugar cane and maize plants to support her family of five. Her village of Ta Ban is 180 km away from Hanoi in Trung Son commune, Thanh Hoa province. It is a remote, mountainous village with no proper road access. The poverty rates here are high and income sources are very limited.
"There are so many things we struggle with now. At times, our old village is inaccessible due to heavy rains and bad roads. We need better living conditions, clean water, we need to make sure our kids are able to study and young people have jobs," says Ms. Van.
Trung Son Hydropower Project will help Vietnam add 260MW of clean electricity-generating capacity to help meet growing demand. A key aspect of the project is to help improve living conditions and open up employment opportunities and road access for the villagers in the project areas.
To make way for the 13 km2 reservoir needed for this run of the river Ma dam, Lo Thi Van and some 2,000 people are going to move to higher ground. Their new locations will have roads, clean water supply for each household, electricity, new community buildings, classrooms and improved health centers.
Of her future home Ms. Van says "My wish is very simple – I really hope to finally have a good road in the new village so that I can sell what I grow."

My wish is very simple – I really hope to finally have a good road in the new village so that I can sell what I grow.


Lo Thi Van
Resident, Ta Ban Village, Trung Son Commune, Thanh Hoa Province, Vietnam
More and better jobs for local residents
Lo Thi Van's village of Ta Ban is one of five pilot villages where project-sponsored Community Livelihood Improvement Plans - or CLIPs - are underway. These livelihood restoration programs aim to give communities a head start in preparing for life in a new location by building their skills and know-how in crop production and livestock raising, starting and running a small business, providing vocational training and agricultural extension services, and opening up access to local markets.
CLIP is a community-wide program open to all households in participating villages. Household participation is purely voluntary. Fifty six households have joined the crop production pilot, 219 households have joined livestock rising, and 87 households are participating in non-agricultural activities.
Ms. Van, already quite experienced local entrepreneur, participates in CLIP and chose to raise hybrid pigs. "I think I can succeed", she says. "We have land, bamboo to build breeding space, food such as maize and palm trees, and short period for raising livestock. But we all need some training."
Under CLIP people get training in their own villages on crop production, animal husbandry and veterinary services.
The village-level CLIP is one of many activities supported by the Trung Hydropower Project, which aims to supply affordable, reliable and safe electric power in an environmentally and socially sustainable way and to create opportunities for people in the project area, like Ms. Van and her family.