FEATURE STORY
A trip to Peru reveals Kim's roots in fighting poverty
June 30, 2013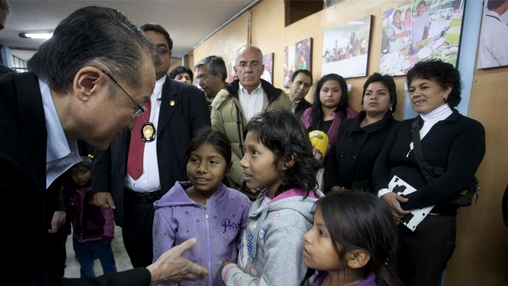 STORY HIGHLIGHTS
President Kim returned to Carabayllo, Peru, where more than 15 years ago he fought against drug resistant TB.
Kim met with former TB patients who now lead healthy, productive lives.
His joint work there with Partners in Health sowed the seeds of his future vision to fight poverty.
CARABAYLLO, Peru– Climbing a steep hillside bare of trees and passing homes with tin roofs, World Bank Group President Jim Yong Kim drove back into his past over the weekend –and reconnected with a small community that taught him valuable lessons about fighting poverty.
"Here he is!" a man said over a loudspeaker in Spanish to a crowd of nearly 200 people as Kim emerged from his car in Carabayllo, 13 miles north of Lima, where he spent parts of 15 years battling multi-drug resistant tuberculosis.
The crowd applauded, music started, and dancers dressed in traditional costumes swirled in the gravel road. Kim hugged community workers of "Socios en Salud" --a health NGO which he co-founded--, and former TB patients who had been cured because of Socios' efforts. And then he joined in the dancing as well.
The celebration, though, was only part of Kim's homecoming visit, the first stop on his three-country official visit to Peru, Chile, and Bolivia. Another part for Kim was more personal: a chance to reflect on Carabayllo's influence on his vision for the World Bank.
"What we learned from this community," Kim told a gathering of Carabayllo's municipal leaders in Spanish, "was that the fight against drug-resistant TB wasn't only a medical problem. It was a social justice problem, too."
In 1994, Partners in Health, a Boston-based NGO founded by Kim and Paul Farmer, created "Socios en Salud" in Peru to work on primary health care.
But when a Boston priest working in the community died the next year of multi-drug resistant TB (MDR-TB), the focus shifted. Kim, along with Jaime Bayona, a co-founder of Socios and now a public health advisor at the Bank, led an investigation that initially uncovered 10 others with drug-resistant TB. The patients were resistant to five first-line TB medications and two rarely used second-line drugs. Later, investigations found scores more infected with the difficult-to-treat TB.
Early troubles
The plan here ran into multiple obstacles. At first, the government refused Socios' request to treat the patients, before relenting. The costs were huge, but Boston philanthropist Thomas White donated the funds to treat people. And the treatment of 75 people of MDR-TB in a poor community was unprecedented -there was little, if any, documented evidence that such treatment in this setting could work – except for a small group of patients under Farmer's care in Haiti.
But interim results from Carabayllo showed that by the fourth month of treatment, 90 percent of the patients no longer had infectious TB and were recovering. That data, later published in the New England Journal of Medicine, was among the key evidence that persuaded the World Health Organization (WHO) to support MDR-TB treatment in the developing world.
When Kim came to Carabayllo – often monthly during the initiative – he always met with people in the community, Bayona said in an interview.
"In Carabayllo, he was always listening to the voice of the community members," Bayona added. "That has to do with the fact that he's an anthropologist. Many doctors will focus on just the symptoms or ask questions about what is bothering patients. And they don't go further. But he always asked people in the community,
'What was the cause of the situation?' and "How do you think the problem can be solved?' His approach was fixing the problem from the root, not just from what was bothering them on the surface.Socios treated people, and also offered counseling, job training, and food packets," Bayona said.
At the site over the weekend, one former TB patient said that support made all the difference.
"Of course, Socios helped me by getting the medication," said Carmen Parejas Vasquez, 44, who became infected with MDR-TB 13 years ago, now is cured, and has started a business selling honey with Socios' help. "But the biggest help was all the moral support."
Parejas had been treated three times unsuccessfully for TB when she heard about Socios. Eighteen months later, she was cured. "God bless Dr. Kim and Socios," she said.

This is a way we can change the way the world thinks about the quality of services we offer poor people. … We can make this something much bigger. It was really the sense that rich people had a certain kind of treatment, and poor people had another kind of treatment.

Jim Yong Kim
World Bank Group President
Lessons for the WB
In an interview about the role Carabayllo played in his approach to development Kim said it played a "huge part of shaping what I know and what I think about development as a whole."
"Working in communities like this … always has to be the reason for why we (at the World Bank Group) do our work," he said.
"We're not just about financing and macro-economic policy. Our organization is here to fight poverty, and to fight poverty in places like Carabayllo. It's a great opportunity to remind myself and send a message to my team that all the work we do has to be based in what we can do in poor communities," Kim noted.
Kim explained that it wasn't just a treatment project.
"This is a way we can change the way the world thinks about the quality of services we offer poor people. … We can make this something much bigger. It was really the sense that rich people had a certain kind of treatment, and poor people had another kind of treatment."
Today, the pioneer work that started 15 years ago is embraced by the Peruvian government through the Ministry of Health which, together with Socios, runs the program.
Kim explained that the Socios project became far bigger than treating scores of people infected with MDR-TB in Carabayllo. He said that the program made a key decision "to take care of the poorest people, make sure they had food, make sure they had a place to live, make sure they had people supporting them through difficult treatment."
"Doing all those things was a litmus test ,a test for society. If (societies) could do that, my goodness, what else could you do for people and for the world?," Kim concluded.