FEATURE STORY
Heartbreak Leads to Road Safety Activism for Mandela Family
May 5, 2013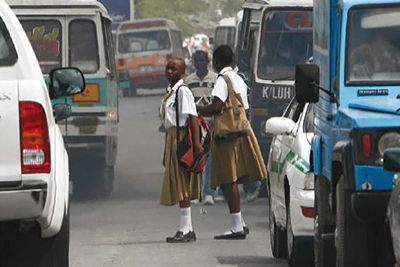 STORY HIGHLIGHTS
Nearly 1.3 million people die every year from road crashes. About 90 percent of the victims are in low- or middle-income countries.
This epidemic is a larger global burden of disease than malaria or tuberculosis. The recent Global Burden of Disease study found road crashes to be among the top 10 causes of death globally.
On May 9, Kweku Mandela and Safe Kids Worldwide CEO Kate Carr will join World Bank specialists to discuss how to improve road safety in a rapidly urbanizing world.
Nelson Mandela's great-granddaughter Zenani was killed in a car crash as she was returning home from a World Cup concert in Soweto in 2010. Her death, two days after her 13th birthday, drew global attention to the high toll in lives and devastating injuries from road traffic crashes globally. Their loss also turned the Mandela family into activists for global road safety.
"On the same day that I lost Zenani, a thousand other families also lost a child on the world's roads," her mother, Zoleka Mandela, writes on the website of the Zenani Mandela Campaign. "This disaster continues to rob us of 1,000 young people every single day."
As Global Road Safety Week gets underway, Zenani's cousin Kweku Mandela – an activist for the campaign and grandson of Nelson Mandela – will join Safe Kids Worldwide President and CEO Kate Carr and former Costa Rica Transport Minister Karla Gonzalez, now the World Bank's South Asia region transport sector manager, for a live-streamed event to discuss the challenges of pedestrian safety and how to lower the toll on human lives.
The event, part of the 2nd Global Road Safety Week (May 6-12), draws attention to the urgent need to better protect pedestrians worldwide, generate action on the measures needed to do so, and contribute to achieving the goal of the Decade of Action for Road Safety 2011-2020. People worldwide will also being joining the Long Short Walk this week to advocate for safe walking for all pedestrians. Children are a special focus of the campaign – too many risk dying for an education just trying to get to school.
A deadly epidemic
Nearly 1.3 million people are killed annually by road crashes. Approximately 90 percent of these crashes are in low- or middle-income countries.
This epidemic is a larger global burden of disease than malaria or tuberculosis. The recent Global Burden of Disease study found road crashes to be among the top 10 causes of death globally and the No. 1 killer of young people ages 15-24.

Unless action is taken, the sheer scale of pedestrian injuries will undermine country efforts to reduce poverty, enhance living standards, and improve public health.

Marc Juhel
Transport Sector Manager, World Bank
Road traffic injuries place an enormous strain on health systems in low- and middle-income countries. In Kenya, it is estimated that up to 60 percent of all trauma patients were injured in road traffic crashes. Further, road crash victims and their families in low- and middle-income countries risk falling back into – or being stuck in – poverty due to overwhelming medical costs, poor rehabilitative services, and lack of safety nets.
Risks for pedestrians
Walking is the most fundamental form of mobility, yet it is also the most vulnerable to road traffic injury. According to the World Health Organization's 2013 Global Status Report on Road Safety, over one-fifth of all road traffic deaths (270,000 annually) are pedestrians. In some countries, such as Ghana, the proportion of pedestrians among road traffic deaths is as high as 40 percent.
Many risk factors contribute to the high vulnerability of pedestrians, including the speed of vehicles, alcohol, inadequate visibility, lack of pedestrian safety facilities, and inadequate enforcement of traffic laws. This is documented in a recent best practices manual jointly commissioned by the World Health Organization, the FIA Foundation, the Global Road Safety Partnership, and the World Bank.
Mitigating measures, better data
While there is no single measure to address all pedestrian risks, many steps can be taken to improve their safety. For example, a 5 percent cut in speed can reduce fatal crashes by 30 percent. Road design, land-use planning, and vehicle design are other important factors.
Collecting reliable data is also essential to improving road safety and reducing risks for pedestrians. According to the WHO study, data systems in most countries remain poor, with 71 percent of countries relying on police data systems only. Many deaths occur after a crash victim has been transported to a hospital, so data from health systems are also needed to complete the picture.
Through the Global Road Safety Facility, the World Bank is helping countries tackle this challenge. The Bank supported the creation of the Ibero-American Road Safety Observatory (OISEVI), which 22 countries in Latin America and the Caribbean are using to exchange experiences and develop statistics to design effective policy solutions.
"As the world continues to motorize, walking needs to be made safer and, particularly in urban environments, promoted as a healthy and less expensive mobility option," said Marc Juhel, World Bank sector manager for transport. "Unless action is taken, the sheer scale of pedestrian injuries will undermine country efforts to reduce poverty, enhance living standards, and improve public health."