FEATURE STORY
Afghan Music Students Take Their Show on the Road
January 17, 2013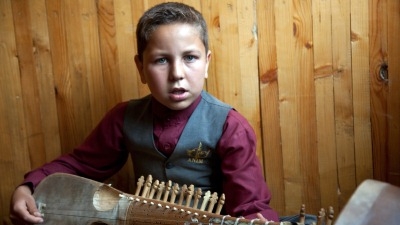 STORY HIGHLIGHTS
In February, students from the Afghanistan National Institute of Music will play at the Kennedy Center in Washington and Carnegie Hall in New York.
The school, supported by the World Bank, trains students, many of them orphans and former street vendors, in Afghan and Western music – once forbidden in Afghanistan.
"In Kabul, there isn't much classical music, and I want to introduce it to my people," says one young pianist.
Afghanistan's little trumpet girls have the giggles. It's just too funny, trying to explain how they were selected from an orphanage to study at the country's most prestigious new music school.
"We're just so very, very good," 10-year-old Khalida Safai manages to boast before another belly laugh overtakes her.
But when her instructor gives the signal, Khalida takes a quick glance at her partner, Meena Zinat, 9, gives a few toe taps for syncopation, makes an impressive lip pucker, and both little girls blast out "Hot Cross Buns," with the best of them.
Actually, they are the best. In fact, they are the only trumpet girls in Afghanistan. And like 140 other students, they are part of a promising vision long pursued by Ahmad Sarmast.
Sarmast returned to his homeland from Australia in 2006, determined to create the Afghanistan National Institute of Music (ANIM) in his war-torn country. It took years of lobbying, organizing, and fundraising before the school finally opened its doors in 2010.
This February, the school's students will embark on a long-planned U.S. tour that will take them to the Kennedy Center in Washington, D.C., and Carnegie Hall in New York. The tour is sponsored by the World Bank, the U.S. Department of State, the Carnegie Corporation, and the Asian Cultural Council.
The World Bank was among the earliest donors to ANIM, and is now helping fund construction of a 300-seat concert hall, which will help the school become self-supporting, and a dormitory for disadvantaged students. The Bank supports the school as part of its Afghanistan Skills Development Project, which aims to improve vocational education. Funding for the project is provided by the Afghanistan Reconstruction Trust Fund (ARTF) and the International Development Association (IDA), the Bank's fund for the poorest countries.

Dr. Sarmast has done everything for us and we have found ourselves as musicians. There is no place like this.

Shabeer Kabuli, 20
Student, Afghanistan National Institute of Music
The school is situated not far from Kabul's historic musician's quarter where players of such traditional instruments as the rubab, dambura, dutar, and tambur once trained, passing songs and technique down through the ages. Now Sarmast is trying to rekindle and preserve these traditions, one child at a time.
Instructors, both local and foreign, are also exposing students to Western classical music by including string, brass, woodwind, percussion, piano, and guitar in the curriculum, along with regular subjects that will earn students their Grade 12 academic diplomas.
For years, Sarmast says, music instruction for children was neglected or forbidden. Fundamentalist factions banned music altogether for a time. Now, the prevalence of Indian "Bollywood" music and Western rock is threatening to obliterate other musical forms, he says.
Preserving tradition is a daunting task, but Sarmast says his larger goal at ANIM is more ambitious.
"I came here hoping to give a voice to the Afghan people, to ensure that they can express themselves again in music and hopefully bring about positive changes by challenging social, ethnic, and religious barriers. We want to re-establish mutual respect within Afghan communities and internationally as well."
ANIM has started this process, says Sarmast, by recruiting half its students from local orphanages and children's aid agencies. Girls currently make up one-third of the student body, but the ultimate goal is recruit half. Children also come from a wide range of ethnic, religious, and economic backgrounds. Students wear uniforms so no distinctions are made, and all must audition to determine their musical promise. But the orphans have special meaning for Sarmast.
With obvious emotion, he recalls the personal struggle of his father, Ustad Salim Sarmast. After being left at an orphanage by a widowed and impoverished mother, Ustad managed to become the first Afghan to successfully compose, arrange, and conduct works for a symphony orchestra in his homeland during the Soviet occupation.
"This is in my blood. I am always inspired by my father's story, and I tell the children that they, too, can accomplish such great things," Sarmast says.
Fourteen-year-old Fikrya was selling chewing gum on the streets of Kabul before an aid agency encouraged her to audition for ANIM. Now she's one of the first in her country to play the cello. Eleven-year-old Said Hasan is sticking to his Afghan roots, focusing his musical efforts on the rubab, a short-necked, plucked lute often intricately decorated with pearl inlay.
"The rubab has such a wonderful voice. I first heard it played at my uncle's wedding and thought to myself, I'm going to learn this instrument," says Said, whose father is a local laborer.
Not all students are from disadvantaged backgrounds, however. Elham Fanoos, 13, is a young pianist with promise, who loves Chopin and feels "like I'm in a garden" when he plays. He comes from a local musical family who can afford to pay tuition.
"In Kabul, there isn't much classical music, and I want to introduce it to my people," says the aspiring teen composer, before launching into a Haydn sonata, eyes closed, thin slippers slapping at piano pedals.
Another paying student, Shabeer Kabuli, 20, says he experimented with numerous instruments and instructors before settling on the unlikely oboe at ANIM.
"After all these years, when I listen and play the oboe, it's with love," Kabuli says. "Dr. Sarmast has done everything for us and we have found ourselves as musicians. There is no place like this."
The Afghan students will perform at 6 p.m. Thursday, Feb. 7, 2013, at the Kennedy Center Concert Hall in Washington, D.C. This is a free event and tickets are required. Tickets will be distributed, two per person in line, in the Hall of Nations beginning at 5 p.m.. Click here for more information. At Carnegie Hall in New York, they will play at 8 p.m. on Tuesday, Feb. 12, 2013. Click here for more information or to purchase tickets.