FEATURE STORY
Helping Kids with Disabilities Towards Future Employment
December 3, 2012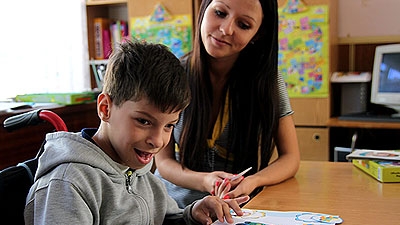 STORY HIGHLIGHTS
In Ukraine, a center is helping about 500 children with special needs to build skills that will eventually help some of them find jobs.
Challenges for special needs youth include securing a job and the fear that taking on a job may result in the loss of social security benefits.
December 3, 2012 - When a child is diagnosed with cerebral palsy, parents may go through a range of emotions that begin at despair, grief and fear for the child's future.
Not in this town in Ukraine.
In Bila Tserkva, a city of about 200,000 that is 50 miles from the capital city of Kyiv, a diagnosis of cerebral palsy is met with hope, as parents turn to Chance.
A children's health center set up 17 years ago, Chance is the result of the combined work of the Bila Tserkva City Council and Ayurveda, a society for disabled children and their parents. The center is a clinic, kindergarten, school and a vocational training center. Using modern methods of physical rehabilitation and education, staff at the center help children adapt to the challenges of adult life. The center was supported in 2007-2008 with $150,000 from the Ukrainian Social Investment Fund, a government institution established with support from the World Bank.
The funds were used to replace windows, provide insulation and refurbish the center. Other improvements include a computer classroom where teens are educated and helped to transition to a work environment. The building, which once resembled a Soviet kindergarten, is now a modern rehabilitation center for children and youth.
Every year, about 500 children undergo rehabilitation here, giving them a shot at acquiring work skills and finding a job.
Take 24-year-old Olena Stuzhna, for example. An alumnus of Chance, she is studying for a degree in Social Work and works at the center, teaching children to work with computers, and helping issue documents for travel abroad and cultural exchanges. Still, barriers remain for people like Olena to capitalize on opportunities for personal development.

Because I work, I cannot study for free. The State Fund of Social Protection of Disabled People does not pay tuition to those employed and receiving disability pensions. Although this legal constraint was lifted last year, officials say there is no money for education in the state budget. So almost everything I earn I have to spend on my own education.

Olena Stuzhna
Alumnus of Chance
CHALLENGES AND HOPE
In Ukraine, as with many other places, possibilities are limited for the disabled to find work. For example, public and private sector enterprises are required to employ people with disabilities to meet the legal requirement of filling at least four percent of jobs with disabled workers. But in reality, several employers only technically fulfill this requirement: a disabled worker is paid a tiny salary, but often is encouraged to not show up for work.
At the same time, not every special needs person wants a full-time job, since that would mean losing their social security package.
"Many disabled people have no motivation to work. I`ll go to work and they`ll cut my benefits, or my pension. The state regulation itself causes people to be unwilling to work," said Volodymyr Kryzhanivsky, who helped establish Chance. Kryzhanivsky himself has a son with cerebral palsy.
Currently, Ukrainian legislation does not let NGOs serving the disabled to engage in commercial activities or sell goods and services. The new law on associations that will come into effect on Jan 1, 2013 will change this. As a result, people with special needs stand a better chance of becoming more active, contributing to society and being part of the country's workforce.
One of Chance's main objectives is to launch a pilot employment project.
"Our goal is to make sure that people with disabilities are integrated into conventional groups of workers together with non-disabled people," Kryzhanivsky said. "This may help change the minds of disabled people and able-bodied people. They would perceive each other differently. The whole system should be changed so that people with disabilities can get jobs."
By Victor Zablotskyi, The World Bank in Ukraine