FEATURE STORY
The Path to Growth of the Middle Class in Paraguay
November 15, 2012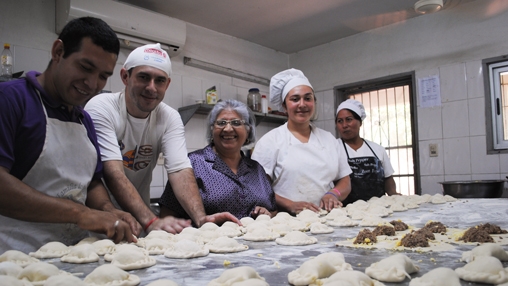 STORY HIGHLIGHTS
In Latin America the middle class grew 50% between 2003 and 2009, according to a new report of the World Bank
The growth of the Paraguayan middle class follows the pattern of the regional advance
7.6% of the Paraguayan population has improved its economic status between 2003 and 2009
One year and 6 months. That is the exact time that separates 33-year old Fernando Fernández from achieving his double dream: graduating in business administration and becoming the first member of his family to have a university degree. This achievement took him a long time because, as is the case for many young Paraguayans, the possibility of studying depends on being able to pay their studies.
In the daytime Fernando works as a business administration assistant for an architecture firm and he goes to university at night. In order to cover the costs of the last years of his career, he was forced to take on an additional job and now Thursday thru Sunday he works in the night shift of a gastronomic delivery company.
"I think no dream is impossible, I always wanted to go to university and was not able to do so until I got a job that helped me pay for my studies. Now I am about to graduate and it makes me very proud to be the first in my family to have a university degree", he states.
Another person who is proud of the results of her effort is Virginia Benítez Giménez. Better known as Ña Virginia, at 66 years of age she is the maker of a successful gastronomic microenterprise. She remembers when she began her business selling empanadas (typical patties with a filling) 30 years ago with her husband Antolín: they would get up very early to cook the empanadas, which had to be ready by 6 in the morning to be distributed to several points in the peri-urban area of Asunción.
At present Ña Virginia is the trade name of her own company that hires 25 persons and produces about 3,000 empanadas every day, among other foods, which she sells in a shop on a busy road of the city of Asunción.
"It cost us years of effort, investments and loans but I do what life taught me; I have always wanted to work and to do my job properly", states Virginia for whom the perfect recipe for growth is simple: work, work and more work.
In Latin America over 50 million persons like Fernando and Ña Virginia have been able to improve their living conditions during the last decade to become members of the middle class, i.e. an increase of more than 50%. Almost a third of Latin American families now consider that they belong to the middle class, a fact that has reduced the proportion of poor in the region by a percentage almost equal to that of the middle class (or 30% of the population), as indicated by experts in the Report on Mobility and the Middle Class.
"The boom of this middle class leads to numerous potential benefits, although to a great extent the materialization of these benefits depends on countries binding the middle class to a new and more cohesive social contract that underscores the need to include anybody who has been left behind", said Rossana Polastri, World Bank Resident Representative in Paraguay.
It cost us years of effort, investments and loans but I do what life taught me; I have always wanted to work and to do my job properly
Virginia Benítez Giménez
Gastronomic Entrepreneur
The Path to Follow
Yan Speranza, Vice President of the Executives' Club of Paraguay, expressed that, in spite of its volatile economy, Paraguay is on a positive pathway of economic growth. "The last seven year the Gross Domestic showed a 5% average annual growth and this new situation also led to the growth of the Paraguayan middle class, with all that this entails in terms of consumption capacity and its multiplying effect on the economy and service".
In the country, sectors such as construction, housing, education, entertainment, shopping malls, supermarkets, hotels, among others, have received a good amount of private investment and are developing at a rapid pace.
The growth of the middle class in Paraguay in the last ten years is due to the growth dynamics and the possibility of greater job-generation.
What benefits does a consolidated middle class bring to development? According to the experts, for Paraguay - like for other countries - a larger middle class can bring about better governance, more extensive credit markets and greater expenditure in social sectors such as public health and education. However, the authors of the report indicate that this formula has not yet been materialized across Latin America.
Fernando and Virginia believe that the opportunity that they both enjoyed to improve their living conditions will redound in better opportunities for their children and their families in the future. "I think that people who come from modest origins must invest in education so that we might have better opportunities than our parents had, and it is possible, with effort", ponders Fernando.
"I was not able to study much, but I worked and I continue to do so from sunrise to sunset to push forward. I am proud of my work and of the fact that I have my own business of which my children are participants and partners… I know that a better future awaits them", concludes Virginia.