FEATURE STORY
In Brazil, descendants of escaped slaves seek to overcome isolation and poverty
October 24, 2012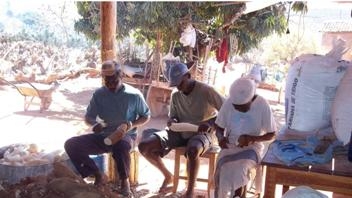 STORY HIGHLIGHTS
A project seeks to improve the lives of 15,750 Afro-Brazilian families in northeastern states.
So far, the project has helped found 52 associations in Bahia, Ceará, and Pernambuco.
Soon these poor communities will be also connected to the rest of the world, online.
The island of Porto do Campo, a quilombola settlement – formed by the descendants of escaped slaves – is a tiny, isolated spot on the map of Bahia. "We struggle with the same health, housing and education issues found in similar communities all over Brazil. The community has no hospitals, and there is only one elementary school," says José Ramos, a volunteer leader.
Still, he and Porto do Campo's other 300 inhabitants have reasons to be hopeful. A project by the World Bank and the Japan Trust Fund, "Leveling the Playing Field for Quilombola Communities in Northeastern Brazil," will enable them to fight for better public policies.
The initiative aims at improving the lives of 15,750 families in three northeastern Brazilian states: Bahia, Ceará, and Pernambuco.
An important result can already be gauged: three years after the project began, communities are able to start their own agriculture and craftsmanship projects, seek funding and get technical assistance for implementation. All of which was made possible with the help of courses and seminars that helped form and strengthen local leadership.
Reducing vulnerability
In addition, the new leaders are now capable of enforcing their land use rights. "It is very important that these communities form associations. When quilombola lands are formally recognized as such, the land tenure is given not to an individual, but to the institution," explains Alexandro Reis, Director for Afro-Brazilian Heritage Protection at Palmares Foundation (attached to Brazil's Ministry of Culture).
"That way, they have easier access to credit and to social security for agricultural labor. Also, they become less vulnerable to political interests."
So far, the project has helped found 25 quilombola associations in Bahia, as well as consolidating a further 50. In Pernambuco and Ceará, the project supported the creation of 27 associations (11 and 16, respectively).

Internet connection would give the quilombolas access to multiple information sources

Alberto Costa
Social safeguards specialist at the World Bank
Communicating online
The Brazilian government calculates that there may be as many as 3,000 quilombola communities in Brazil with an estimated total population of about 300,000 families.
A challenge remains for these communities: overcoming isolation. "Several consultations were carried out with the quilombolas while the project was being structured and they repeatedly cited Internet connection as a fundamental tool. It would give them access to multiple information sources," recalls Alberto Costa, a social safeguards specialist at the World Bank.
The project comprises the construction of 15 community centers with Internet connection in the three states – one is already operational in Ceará. While the others are currently underway, local project managers seek to find suitable Internet service providers.
"We will try to form partnerships with mobile phone companies to connect places where local providers are not available," says Maria José Monteiro, Project Coordinator for the government of Pernambuco. A similar statement was given by Antônio Silva, who manages the project for Bahia.
That would be a viable solution for communities such as Porto do Campo, where a few youngsters rely on mobile modems. "We have phone lines, but Internet access rates are still low. If that could change, it would be great," says José Ramos.