FEATURE STORY
Uruguay: Children connected to the World and to their Future
August 3, 2012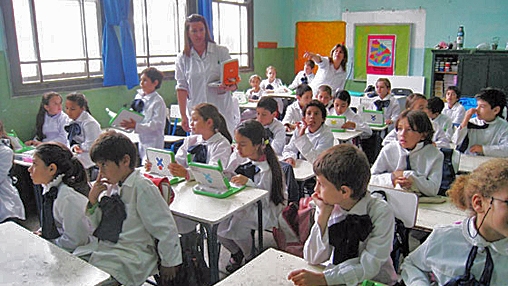 STORY HIGHLIGHTS
All public schools have Internet access and each student has a laptop.
Access to information provides new opportunities for children and their families.
Other countries want to to put this experience into practice.
Uruguay managed it. All public schools have Internet access, available through a WiFi connection, and each student has a notebook computer.
Thanks to the work of One Laptop per Child, along with the support of the Uruguayan government, all 300 000 students in the country's public schools each have their own computer.
This initiative is part of "Plan Ceibal" which began in 2006 with the aim of reducing the digital divide between Uruguay and other countries as well as between different sectors within Uruguayan society.

Computers are not magic but they will improve the education system
Miguel Brechner
Director of "Plan Ceibal"
It's thought that by integrating computers into the available classroom resources, it will be easier for pupils to find learning materials online. The students are also able to take their laptop home to do homework and so that their families are also able to access to internet.
As part of the plan, teachers have also begun to use video games to stimulate learning. Miguel Brechner, Plan Ceibal Director explains that "computers are not magic but they will improve the education system."
The computers are also enabling Uruguayan students to connect with students from other countries. "I didn't think we would have so much in common," says Mateo, a 10 year old public school pupil from Montevideo after chatting with a girl from Costa Rica who, "also hates math."
The success of Plan Ceibal so far has already generated interest in Armenia and Tatarstan, a Russian republic. With the World Bank's support, delegations from the two countries and Argentina met recently in Uruguay to learn more about this initiative.