FEATURE STORY
Guatemala and Bolivia exchange experiences to improve life in poor neighborhoods
July 2, 2012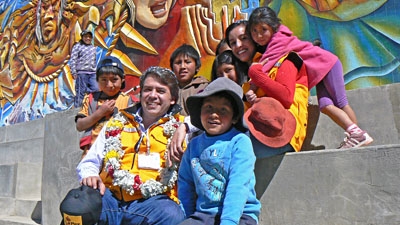 STORY HIGHLIGHTS
The "Barrios de Verdad" program, from the Municipal Government of La Paz, is funded by the World Bank through the Urban Infrastructure project.
The program has benefited 45,000 people living in poor urban neighborhoods of La Paz.
In Guatemala, the model will be adapted to local needs and will include public safety component.
Esperanza Choquehuanca is over 60 and has lived in the 9 de Abril neighborhood on the outskirts of La Paz since she was little. "We used to have to wash clothes in the stream or the wells; women and girls had to go to the river to use the bathroom," she said.
But Esperanza's life started looking up after the "Barrios y Comunidades de Verdad" (Real Neighborhoods and Communities) program was launched. The program is part of the World Bank's Urban Infrastructure Project in Bolivia.
Of all the changes in the neighborhood, Esperanza has most benefited from the improvements in basic services. That is not surprising given that she must wash clothes and ensure that her children and grandchildren are clean.
"Now we all have our own bathrooms with a shower with hot water as well as our own laundry areas," says Esperanza, visibly moved, but with the self-confidence that a better life gives her.
She is also happy with the street lighting, the sports areas, the community house where neighbors organize a variety of activities, and especially with the paved roads.
Neighborhood Board President Emilio Flores agrees with Esperanza that not having to circulate on improvised paths any longer is one of the most important improvements.
"We lived among dirt and dust; with paved roads, we no longer have to send our children to school in filthy shoes. These infrastructure projects have improved our quality of life," he says.
The star program
Real Neighborhoods and Communities is "the municipality's star program," according to La Paz Mayor Luis Revilla.
The program targets resources to comprehensively address the main problems of poor neighborhoods and rural communities of La Paz Department.
The program began in 2005; seven years later, it has benefited 45,000 people living in poor urban neighborhoods. Of La Paz's 600 neighborhoods, 300 require project interventions.
To date, infrastructure works have been completed in 55 of these neighborhoods. By 2013, the project expects to have renewed 100 neighborhoods.
"If, over the next 15 years, we can intervene in the 300 neighborhoods that need overall improvements, we will transform the hillsides of La Paz, producing a significant social impact," said Mayor Revilla.

We lived among dirt and dust; with paved roads, we no longer have to send our children to school in filthy shoes. These infrastructure projects have improved our quality of life.

Emilio Flores
Neighborhood Board President
From Guatemala to Bolivia
Mayor Revilla recently welcomed a Guatemalan delegation to La Paz. The delegation included Guatemala's social development minister, three mayors, two council members and other government officials from the Central American country.
The Guatemalan delegation visited the seat of the Bolivian government as part of a south-south cooperation effort for knowledge exchange. The World Bank invited the delegation to experience the results of the Real Neighborhoods Program first-hand.
The visitors encountered poverty situations similar to those in their country, although they stressed that violence and delinquency were a major problem in Guatemala.
"There is a lot of violence in our urban areas. A good way to help these communities develop is to give them dignity. Very soon, we hope to launch the equivalent of the Real Neighborhoods Program in Guatemala, which will be known as Safe Neighborhoods there," said Villa Nueva Mayor Edwin Escobar.
The World Bank Resident Representative in Guatemala, Oscar Avalle, clarified that "rather than a replication, the model will be adapted to local needs. Public safety will be added to the infrastructure and social consultation components."
"A lesson for the World Bank"
Guatemala City is surrounded by a poverty belt, which is home to over 3 million people. This area is called the greater Southern City and is composed of six districts (Villa Nueva, Santa Catarina Pinula, San Miguel Petapa, Amatitlán, Villa Canales and Mixco). Sixty percent of its inhabitants live in precarious conditions due to the lack of basic services, paved roads and other essential services and infrastructure.
"We decided to work with mayors because we want to protect the most vulnerable groups together. That is why we formed an association with them," says Minister Lainfiesta, in a clear example of successful coordination between municipal and national governments that goes beyond politics.
For Faris Hadad-Zervos, the World Bank representative in Bolivia, "this exchange fosters learning between countries and the Real Communities project. It is a lesson not only for Guatemala, but also for the World Bank."
To become a beneficiary of the Real Neighborhoods program, candidates must take part in a competition with specific requirements. These include having formed a legal neighborhood entity and having well-organized neighbors who closely monitor infrastructure works, among others.
Esperanza Choquehuanca is proud of what her 9 de Abril neighborhood has accomplished. She believes that her neighbors will continue working to improve the neighborhood, encouraged by the program that believed in them. "We had a very difficult childhood, with much poverty; I don't want that for my children and grandchildren. I know they are observing and will have better lives."