FEATURE STORY
World Bank and Peru – A partnership for development with social inclusion and equity
March 30, 2012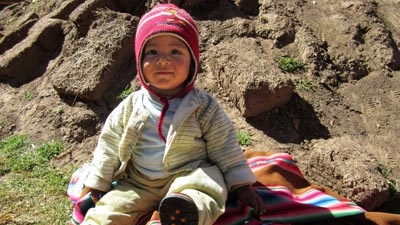 STORY HIGHLIGHTS
30% expansion of rural electrification.
Improvement of nutrition of 300,000 children under-five years of age.
Rehabilitation of 3,350 kilometers of rural roads.
Lima, March 30, 2012. - Despite her best efforts, Luz Marina Cusi, leader of a poor highland district in Peru, earned very little selling her kiwicha crops. "Lots of work and not much money," she says, sighing. Over time, and thanks to her tenacity, she managed to acquire machines to produce kiwicha cookies. However, she did not know how to use the machines, and what was worse, had no electricity to operate them anyway.

Thanks to the support of the government and the World Bank's project on productive uses of electricity, we have put the machines in operation and gained access to markets. We have learned to produce and improve our quality.

Luz Marina
Director of the Señor de Huanca Kiwicha Processing Association, Sacred Valley of the Incas, Cusco.
She is just one of the 645,000 people benefitting from the Rural Electrification Project, whose objective is to improve the quality of life of poor people living in rural areas by providing electricity, training and access to markets. The project forms part of the portfolio of 17 projects totaling US$1.95 billion that the World Bank finances in Peru.
When the Rural Electrification Project began in 2006, more than six million people living in rural areas did not have electricity. The goal is to reach 85% of that population by 2016. This means expanding electricity service to 84,000 new households.
The project to reduce chronic malnutrition among children under age five is also continuing. So far, the project has helped reduce malnutrition from 28.5% in 2007 to 19.5% in 2011. The project strategy links the reduction in chronic malnutrition to social programs to benefit 300,000 Peruvians, including 42,000 children under age three.
The project to rehabilitate approximately 3,350 kilometers of rural roads and 1,780 kilometers of regional highways will continue in an effort to reduce travel times and costs of transporting people and commodities. By 2013, an estimated 750 qualified microenterprises will provide road maintenance services.
Continuing these and other efforts will help overcome the major challenges the country faces for achieving social inclusion. To that end, the World Bank's Board of Executive Directors endorsed the new 2012-2016 Partnership Strategy for Peru, which supports governmental management and prioritizes social equity, to be achieved through increased access to basic services and infrastructure and promotion of competitiveness.
This new partnership has four main objectives:
Increase access to and quality of social services for development with greater equity.
Connect the low-income population to services and markets.
Promote sustainable growth and productivity.
Improve public sector performance for greater inclusion.
Preparing this new strategy took an extensive consultation process with various civil society actors in Peru. For eight months, NGOs, business people, religious groups, academia and research communities at national, regional and local level contributed with key inputs to the realization of the document.
Under this new partnership, financing can be increased up to US$ 250 million annually. For its part, the International Finance Cooperation, the World Bank agency that works with the private sector, is developing a US$ 835 million program.