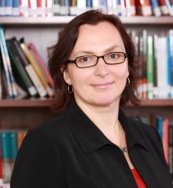 Tatiana Proskuryakova
Country Manager, FYR Macedonia, Europe and Central Asia
Ms. Tatiana Proskuryakova was appointed Country Manager for FYR Macedonia in the Europe and Central Asia Region of the World Bank in February 2013.

Prior to this appointment, she was Country Operations Advisor for Argentina, Paraguay and Uruguay, based in Buenos Aires, Argentina.

Tatiana joined the World Bank in 1992 and throughout her career she has held various positions both in headquarters and in field offices, including in operations (in Europe and Central Asia Region and in Latin America and the Caribbean Region), portfolio management (in Latin America Department of Development Effectiveness) and corporate strategy (in Operational Policy and Country Services Vice Presidency).

From 2003-2007 Tatiana was Senior Advisor to the Executive Director representing the Russian Federation at the World Bank's Board.

Tatiana Proskuryakova holds an M. Sc. in Economics/ Political Economy from Moscow State University, Russia, and an M. Phil. in Economics from the University of Oxford, UK.
AREAS OF EXPERTISE
Aid Effectiveness
Anti-Corruption
Social Protection and Labor
Gender
Poverty