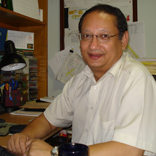 Roshan Darshan Bajracharya
Senior Economist, World Bank Nepal, South Asia
Roshan Darshan Bajracharya joined the World Bank in 2000 as the senior economist at World Bank Nepal, based in Kathmandu.

Prior to joining the Bank, Bajracharya worked for the government of Nepal, National Planning Commission (NPC). During this time, he was responsible for the preparation of a three-year rolling budget, annual midterm reviews of the budget, preparation of annual development budgets, and policy matters related to tax and revenue. He also was part of the NPC Public Expenditure Review Group as well as the Economic Policy Reform Task Force. Bajracharya has worked as a consultant as part of the government of Ghana's Economic Reform Program.

Bajracharya holds a master's degree in public administration from the John F. Kennedy School of Government, Harvard University, where he has served as a lecturer.