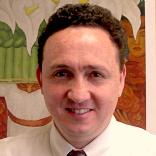 Pablo Fajnzylber
Lead Economist and Sector Leader, Latin America & Caribbean
Mr. Fajnzylber has been the coordinator of the World Bank's Brazil operations in economic management, gender, poverty reduction and private sector development since July 2009. He is also responsible for managing the Bank's extensive knowledge program in the country, including reports, technical assistances and monitoring and evaluation.

Previously he was a senior economist in the Office of the Chief Economist for Latin America and the Caribbean at the World Bank, where he was one of the main authors of the 2009 Regional Flagship Report " Low Carbon, High Growth: Latin American Responses to Climate Change". He also worked in the Finance and Private Sector Development unit.

Fajnzylber has published extensively on a variety of topics including the economic impact of remittances, the dynamics of micro-enterprises in developing countries, the impact of international trade on labor demand and the economic causes of crime.

Before joining the World Bank, Mr. Fajnzylber, a native of Chile, taught economics at the Federal University of Minas Gerais. He also served as consultant to the United Nations Economic Commission for Latin America (ECLAC) and the World Bank. Fajnzylber received his Ph.D. in economics from Michigan State University (USA).


AREAS OF EXPERTISE
Poverty
Private Sector Development