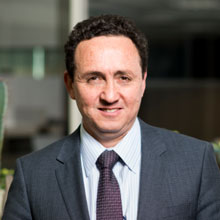 Pablo Fajnzylber
Lead Economist and Sector Leader, Latin America & Caribbean
Pablo Fajnzylber is the Manager for the Africa Region at the Poverty and Equity Global Practice of the World Bank. In that capacity he oversees the Bank's poverty measurement work, statistical capacity building and poverty-related policy analysis in Sub-Saharan Africa.

Previously, he has been Manager for East Africa at the Poverty Reduction and Economic Management department, Lead Economist for Brazil in the same department, Senior Economist at the Latin America and Caribbean Chief Economist Office and the Finance and Private Sector Development Department, and Economist at the Development Economics Research Group. In his previous postings, he has been responsible for a large number of analytical and lending projects, with the latter totaling more than of $4.5 billion.

Mr. Fajnzylber holds a PhD in economics from Michigan State University and has published extensively on a variety of development topics, including on issues ranging from Economic Growth, Labor Demand and Informality, to the Development Implications of Climate Change and the Economic Causes of Violent Crime. In addition to authoring multiple World Bank reports, his work has been published in various professional journals, including the Journal of Development Economics, Journal of International Economics, Journal of Law and Economics, European Economic Review, World Development, Journal of Development Studies, World Bank Economic Review and Applied Economics.
AREAS OF EXPERTISE
Poverty
Private Sector Development