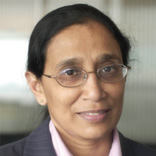 Lakshmi Shyam-Sunder
Vice President and Chief Risk Officer, World Bank Group
Lakshmi Shyam-Sunder was appointed Vice President and World Bank Group Chief Risk Officer in February 2014. She was previously Chief Financial Officer and Director, Finance and Risk at the Multilateral Investment Guarantee Agency (
MIGA
), the political risk insurance and credit enhancement arm of the World Bank Group.
Ms. Shyam-Sunder was one of the key contributors to the MIGA/IBRD Exposure Exchange Agreement within the Bank Group, and was responsible for strengthening and enhancing the finance, risk, resource management, IT, and control functions in MIGA.
Prior to joining MIGA in March 2011, Ms. Shyam-Sunder worked at the International Finance Corporation (
IFC
), also part of the World Bank Group, where she held a variety of positions. As Director for Corporate Risk, she led the development of a new Client Risk Management Advisory Service function for IFC clients and the creation of the International Financial Institutions Risk Data Consortium. Before that Ms. Shyam-Sunder was Director of IFC's Risk Management and Financial Policy Department where she developed IFC's integrated economic capital and pricing framework, and had responsibility for all financial risks arising from the Corporation's loan and equity investments in emerging markets, and Treasury activities as well as managing rating-agency issues. She was also Co-Chair of IFC's New Products Assessment Group.
Ms. Shyam-Sunder has consulted for a wide range of public and private sector institutions in the U.S. and in emerging markets. She has also served on the Board, and Finance and Risk Committees of institutions in emerging markets.
Before joining IFC, Ms. Shyam-Sunder was a faculty member at the MIT Sloan School of Management where she received an award for Excellence in Teaching. Ms. Shyam-Sunder was also on the faculty of The Tuck School of Business Administration at Dartmouth College.
Ms. Shyam-Sunder holds a Ph.D. in finance from the MIT Sloan School of Management and an MBA from the Indian Institute of Management, Ahmedabad.
Ms. Shyam-Sunder was born in Iraq, and grew up in India. She is married and has one daughter.