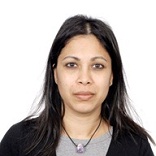 Iffath A. Sharif
Senior Economist, Social Protection Sector, South Asia Human Development Unit, Human Development Network
A Bangladeshi national, Iffath Sharif is responsible for coordinating the Social Protection portfolio in Bangladesh. Her responsibilities include managing the
Employment Generation Program for the Poorest (EGPP) Project
, the first results-oriented World Bank project in Bangladesh which supports a flagship social safety net program of the government of Bangladesh. The EGPP provides seasonal short term employment of 80 days annually on local infrastructure projects to enable over 600,000 poorest households to better cope with seasonal shocks. As part of World Bank support, substantial policy and implementation reforms to EGPP include better targeting of program resources to geographical areas with higher poverty rates and tightening selection criteria for beneficiaries, introducing a 30% quota to ensure female participants, making all wage payments directly into beneficiary bank accounts, and improving program monitoring systems. Third party evaluations conducted by think tanks such as IFPRI and PPRC show that the beneficiary selection process and self-targeting features of the program perform well, and leakage in the program has reduced significantly from previous years. Encouraged by these results and other evaluations, the government of Bangladesh has increased its budget allocation to EGPP by 20% in the current fiscal year, and has requested additional World Bank support for the modernization and rationalization of some of the other large safety net programs.
Sharif was also responsible for the implementation of a recently completed project, the
Emergency Repatriation and Livelihood Restoration of Migrant Workers Project
, which supported the Government in the repatriation and a on-time cash assistance for migrant workers who fled the crisis in Libya that unfolded in February 2011. This is the first migration project implemented by the World Bank, and its contribution was highly appreciated by the government of Bangladesh. Other innovative projects that Sharif has undertaken include a Conditional Cash Transfers Pilot Project which attempts to improve the nutrition and education outcomes of children from extreme poor households in both rural and urban locations. The project has pioneered an innovative cash payment system using Postal cash cards which has proven to be very successful. Sharif is also engaged in analytical work, and has recently co-authored the Bank's flagship Poverty Assessment Report for Bangladesh scheduled to be released soon.
Sharif joined the World Bank in 2008 in Washington DC, and has worked primarily on Sri Lanka, Nepal and Bangladesh. Prior to joining the World Bank in 2008, Sharif taught Econometrics and Economics of Microfinance at the Department of Economics, North South University in Bangladesh. She briefly worked with a think tank, Centre for Policy Dialogue, as a visiting fellow to promote a political and electoral reform agenda for Bangladesh. Sharif's first exposure to the field was with a Bangladeshi microfinance NGO, Proshika. Her work with Proshika led to the publication of two books that she co-edited on the targeting and institutional aspects of the microfinance sector in Bangladesh. Her work on the Samurdhi Food Stamp Program in Sri Lanka was published in the Journal of Development Economics. Sharif has a Bachelors degree in Economics from Middlebury College, a Masters in Public Policy from Princeton University and a PhD in Development Economics from the London School of Economics.
AREAS OF EXPERTISE
Social Protection and Labor
Poverty