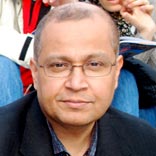 Abhas Jha
Sector Manager for Transport, Urban and Disaster Risk Management, East Asia and Pacific
Abhas' core interests are smart cities, urban resilience and cities as complex adaptive systems. He has been with the World Bank since 2001, leading the Bank's urban, housing and disaster risk management work in Turkey, Mexico, Jamaica and Peru as well as serving as the Regional Coordinator, Disaster Risk Management for Europe and Central Asia.
He has also served as Advisor to the World Bank Executive Director for India, Bangladesh, Sri Lanka and Bhutan on issues related to urban development, infrastructure and climate finance. He earlier served for 12 years in the Indian Administrative Service (the national senior civil service of India) in the Government of India (in the Federal Ministry of Finance and earlier in the state of Bihar).
He is the lead author of the World Bank publications "Safer Homes, Stronger Communities: A Handbook for Reconstructing after Disasters" and "Cities and Flooding: A Guide to Integrated Urban Flood Risk Management."
AREAS OF EXPERTISE
DISRI_webtopics
Urban Development