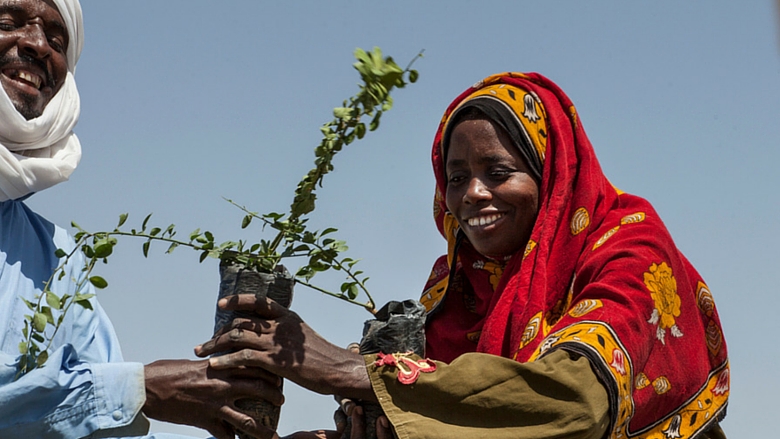 Chad. Andrea Borgarello for TerrAfrica / World Bank
Environmental degradation exacerbates poverty among the most vulnerable people who often lack access to the most basic resources for their survival. In rural areas, where 78 percent of the world's poor live, environmental neglect contributes to degraded land, water scarcity, falling crop yields and economic migration. About 42 percent of the world's poorest live on land that is classified as degraded. Every year, 75 billion tons of fetile soil is lost to land degradation Similarly, 12 million hectares of land are lost every year to desertification and drought alone – compromising efforts to end global hunger. Worsening land degradation impacts 3.2 billion people worldwide.
In cities and coastal areas as well, a lack of environmental and spatial planning at the landscape level translates into costly and scarce water, food and energy supplies, as well as pollution-related disease, and increased vulnerability to natural disasters such as floods or tsunamis. Land degradation costs the world an estimated $10.6 trillion each year.
These challenges are also great opportunities: worldwide, about 2 billion hectares of deforested and degraded land could be restored to functional, productive ecosystems, boosting development prospects and helping both people and the planet in mitigating the impacts of climate change.
Landscape restoration techniques that improve crop yields, reduce erosion and enhance the provision of water are within reach. They include a mosaic of interventions and proven methods such as agroforestry and silvopastoralism that integrate trees on farms and ranches; cross slope barriers and farmer-managed natural regeneration to fight soil erosion; conservation area management to protect water sources; and climate smart agriculture that uses less water and builds up soil for more resilient crops. Many of these interventions deliver a "triple win" by increasing livelihoods, enhancing resilience to climate change, and storing carbon to mitigate climate change.