BRIEF
Forest Law Enforcement and Governance
August 28, 2013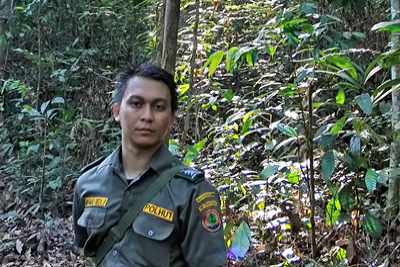 Improving the framework for sustainable forest management
Poor governance, corruption and illegality in the forest sector put at risk forest-dependent populations who rely on timber and non-timber forest products for their livelihoods and survival, and undermine responsible forest enterprises by distorting timber markets. These failures result in a loss of revenue that could be invested in sustainable forest management or economic development. Often they are part of wider networks of corruption and environmental crime. The World Bank estimates the (global) annual market value of losses from illegal cutting of forests at over US$10 billion – more than eight times the total official developmental assistance (ODA) flows to the sustainable management of forests. Illegal and unsustainable logging also undermines ongoing efforts to curb deforestation and enhance carbon stocks to mitigate climate change.
Illegal logging can be poverty driven or associated with commercial exploitation of timber. The causes of illegal logging and other forest crimes are complex, and often lie outside the forestry sector. Therefore solutions will also differ. Weak governance, including unclear or nonexistent policies or legislation and their enforcement on the use of forest resources is a key issue. Weak institutional structures and inability to monitor and enforce regulations hamper progress in many countries. These weaknesses are difficult to address politically, since well-connected interest groups tend to benefit from the status quo and resist change.
However over the last decade, the World Bank, the European Union and other partners have made significant strides in opening the space for dialogue and reform by backing Forest Law Enforcement and Governance (FLEG) processes in different parts of the world. The Program on Forests (PROFOR), hosted by the World Bank, has also made forest governance one of its priority issues, providing technical assistance to improve the monitoring of forest activities and helping create consensus and political will around priority reforms.
Improving governance through forest projects and technical assistance:
In Cameroon, legal and regulatory reforms that were part of a wider concession reform effort resulted in the first legal recognition of community forests in any part of West Africa.
In the Democratic Republic of Congo (pdf), a legal review of concessions led to a significant reduction in the area under illegal or mismanaged forest concessions, to 9.7 million ha in 2008, from 43.5 million ha in 2002. At the same time, steps were taken to bring communities into decision-making processes in forest management, to clarify the rights of traditional forest users, and to develop new models for payments for environmental services.
In Liberia, where timber was once used to purchase weapons and fuel a devastating civil war, forest policy reform has slowly allowed the country to resume logging activities within an improved legal framework. A national "chain of custody" system that tracks timber from the forest of origin to the point of export has assisted in securing more than $27 million in net tax revenue for the state in 2008-2012. Although many implementation challenges remain, these reforms have benefited the country by creating greater transparency around logging revenue and a platform for stakeholders to demand more effective change.
The Program on Forests Bank has developed a diagnostic tool for multistakeholder assessments and monitoring of the quality of forest governance. This framework has been applied in countries like Uganda, Burkina Faso and Russia to pave way for governance reforms in support of sustainable forest management.
In Tanzania, tackling illegal logging and wildlife crimes required enhancing the capacity to enforce stricter laws and pursue those who break them. The World Bank provided key support to strengthen the field presence and enforcement capacity of Forest Surveillance Units, for example by establishing 12 forest product checkpoints in strategic parts of the country. As a result, a 33% increase in forest revenue collection was achieved between 2007 and 2009.
Together with the CITES Secretariat, Interpol, the United Nations Office on Drugs and Crime (UNODC), and the World Customs Organization (WCO), the World Bank is a partner in the International Consortium to Combat Wildlife Crime which seeks to provide a more sophisticated response to illegal activities and trade by using techniques such as controlled deliveries and the use of wildlife forensics. It also seeks to "follow the money" and address asset forfeiture and corruption.