BRIEF
Forests and the Environment
August 31, 2013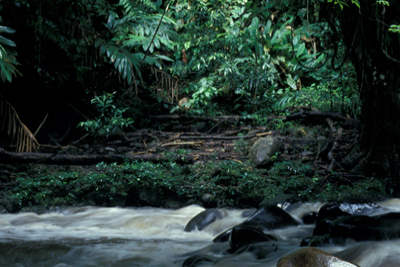 Valuing and Preserving Environmental Services
Forests cover about a third of the earth's land area and are essential to the health of our environment. For example, trees and forests absorb and store much of the carbon dioxide that otherwise would be contributing to climate change. Forests are home to about 80 percent of remaining terrestrial biodiversity. Forests also regulate water cycles, maintain soil quality, and reduce the risks of natural disasters such as floods.
Many of these services are undervalued although they are key to the resilience and green growth of local, national and global economies. Increasing finance for forest conservation and protection is a priority – particularly at a time when natural systems are coming under demographic, economic and climatic pressure. Although the pace of deforestation has slowed in some regions, the world still loses about 14.5 million hectares of forests each year. Worldwide, an estimated 2 billion hectares of lost or degraded forest landscapes could be restored and rehabilitated, returning landscapes and communities to their healthy productive potential.
We are working with countries to reap the multiple environmental benefits of retaining their forests.
In alliance with the World Wildlife Fund and local and international partners, the World Bank helped Brazil secure around 24 million hectares of Amazonian forests, about the size of the United Kingdom. The Bank's efforts have also helped classify 45.4 million hectares of the Amazon as Indigenous lands and set aside 2.1 million hectares into special reserves for sustainable, community-managed use. The project tackled successfully some of the daunting concerns in ecosystem protection today: enforcement of environmental laws in remote areas; the needs and aspirations of rural people for improved livelihoods; and the valuing and funding of conservation activities against a wider backdrop of ongoing resource exploitation. In its second phase, ARPA will cover nearly 70 million hectares of rainforest, saving more than 1.1 billion tons of CO2 emissions through 2050.
The World Bank Group is working with countries to help reduce greenhouse gas emissions from deforestation and forest degradation and enhance the role of forests in mitigating and adapting to climate change. Through the approach known as REDD+, we are working in partnership with multilateral and bilateral agencies, civil society groups, private sector initiatives and carbon markets to mobilize funding and test innovative approaches that could help countries retain and grow their forests.
The World Bank serves as the Trustee and the Secretariat of the Forest Carbon Partnership Facility, a global partnership that is helping countries draft REDD+ readiness plans and will provide carbon payments to countries that meet certain targets. The Bank is also the implementing organization, together with other multilateral development banks, of the Forest Investment Program, and is financing pilot investments for reforestation and soil carbon through the BioCarbon Fund, a public-private initiative that mobilizes resources for pioneering projects that deliver emission reductions, while promoting biodiversity conservation and poverty alleviation.
In Ethiopia's Great Rift Valley, the Bank partnered with World Vision to help farmers regenerate a forest landscape that offers protection against dangerous landslides and improved water availability for more than 65,000 people. The project is expected to sequester over 880,000 metric tonnes of carbon dioxide-equivalent over 30 years, with the World Bank purchasing 165,000 metric tonnes worth of carbon credits through the BioCarbon Fund.
The Program on Forests, a multi-donor partnership based at the World Bank, has also supported innovative approaches to use forests and trees to restore landscapes that benefit people and the planet. For example, policy advice has contributed to advance the practice of payments for environmental services in China (a world leader in this field) and raise awareness of the opportunities for investing in landscape restoration.
By supporting the Weath Accounting and the Valuation of Ecosystem Services (WAVES) partnership, the World Bank is tapping into new research for natural capital accounting to ensure that decision makers take the value of ecosystem services into account. For low-income countries, natural capital makes up about 36 percent of total wealth.