BRIEF
Sustainable Energy for All
November 19, 2013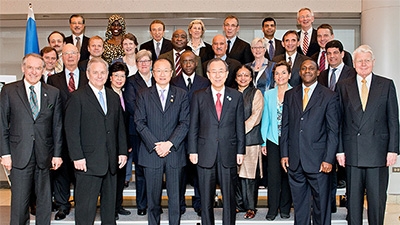 SUSTAINABLE ENERGY FOR ALL OBJECTIVES: BY 2030
Universal access to electricity and modern cooking solutions
Double the energy efficiency improvement rate
Double the share of renewable energy in the global energy mix
CONTEXT
http://www.worldbank.org/se4all

About 1.2 billion of the world's people don't have access to electricity, while 2.8 billion rely on wood or other solid fuels to cook and heat their homes. This results in indoor air pollution that killed over 3.5 million people in 2010.
About 1.8 billion people gained electricity connections between 1990 and 2010. But this was only slightly ahead of global population growth of 1.6 billion. The pace of electricity expansion needs to double to reach everyone by 2030. An even faster rate of expansion in safe cooking solutions is needed to cut to zero those households using solid fuels from the current 41% level. The carbon cost of such expansion is low; universal electricity access would increase global carbon dioxide emissions by less than one percent.
Sustainable Energy for All, a global coalition of governments, private sector, civil society and international organizations, aims to deliver universal access to electricity and safe cooking solutions, while also doubling the amount of renewable energy in the global energy mix from its current share of 18% to 36%. The initiative also seeks to double the rate of improvement in energy efficiency, reducing the compound annual growth rate of energy intensity to –2.6%. It seeks to reach these targets by 2030.
This initiative was launched in 2011 by United Nations Secretary-General Ban Ki-moon, who now chairs its Advisory Board with World Bank Group President Jim Yong Kim. Its Advisory Board comprises distinguished leaders and experts from around the world who have pledged to act on this vision of a sustainable energy future. The initiative is supported in its work by a global facilitation team led by Kandeh Yumkella, the UN Secretary General's Special Representative for Sustainable Energy.

I truly believe that ending poverty and ensuring sustainability are the defining challenges of our time. And access to sustainable energy is central to both of them.


Jim Yong Kim
President, The World Bank Group
STRATEGY
Decisive action is needed to achieve these goals, including fiscal, financial and economic policy incentives, phasing out fossil fuel subsidies, and pricing carbon.
Existing investments in energy totaling about $409 billion a year need to be increased with an additional $600-800 billion every year to 2030. Specifically, that is $45 billion more for electricity expansion, $4.4 billion more for cooking solutions, $394 billion for energy efficiency, and $174 billion for renewable energy.
These estimates are in a Global Tracking Framework for the Sustainable Energy for All Initiative, produced in 2013 by a team of experts from 15 agencies led by the World Bank Group and the International Energy Agency (IEA). This Framework identifies the countries and regions in which these investments are most urgently needed. These include countries in which the electricity and safe cooking access deficits are largest. For the energy efficiency and renewable energy goals, efforts must be concentrated in the 20 countries where energy consumption is greatest.
The Bank Group has launched a series of initiatives to enhance its financing and policy advice to help countries move towards the goals. In Sub-Saharan Africa and developing Asia, the focus is on access, where most of those without electricity live. For the 20 developed and emerging market countries that account for 80% of energy consumption, the focus is on doubling the share of renewables to 36%, and on doubling the improvement of energy efficiency.

Sustainable energy is the golden thread that connects economic growth, social equity, and a stable climate and healthy environment.


Ban Ki-moon
UN Secretary General
RESULTS
Achieving universal access to energy
Achieving universal access to modern energy services by 2030 will cost more than $49 billion a year. Since 2000, the World Bank has financed projects that provided household connections or enabled them by increasing capacity and boosting transmission and distribution systems to provide electricity to over 62 million people. The Bank Group's financial instruments reduce risk associated with energy projects to leverage private investment for access. Its policy and strategic guidance helps governments create conditions to attract companies with new business models, innovative finance and technologies. The Bank Group's energy support—financing and guarantees—typically leverages an equal amount of financing from other sources.
Doubling energy-efficiency improvement
Energy efficiency financing by the Bank Group has exceeded $1 billion every year since 2008; it is about 15% of annual energy sector lending. This helps countries and cities establish energy efficiency plans, and create incentives for domestic banks to lend to business and industry for energy efficiency investments. As buildings account for almost 40% of energy consumption, Bank Group support helps countries seize major savings through energy efficiency standards for buildings and industry. Through a combination of Bank lending and ESMAP analytical support, we facilitate governments' adoption of energy efficiency codes, effective public procurement of energy efficiency services, and low-carbon city projects.
Doubling the share of renewable energy
The Bank Group's renewable energy project approvals increased substantially from $4.5 billion in 2008–10 to $7.1 billion in 2011–13. While support for grid-connected renewable energy—hydropower, geothermal and wind—has been significant, the portfolio includes substantial off-grid renewable energy lending; at $635 million in 2010, it accounted for a third of renewable energy commitments that year. One nationwide project in Bangladesh, for example, has installed off-grid solar electricity in over two million households.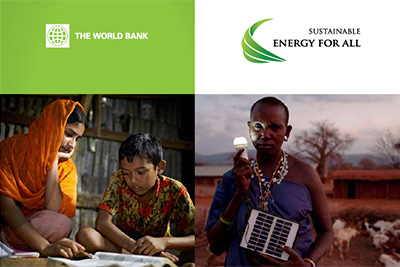 Acting on the Vision

IBRD & IDA: Expand access to electricity and clean household fuels
The Bank Group's two major financing vehicles, the International Bank for Reconstruction and Development (IBRD) for middle-income country governments, and International Development Association (IDA) for low-income country governments, contributed over two thirds of the Bank Group's total $49 billion in financing for energy projects and programs between 2008–13. Of this, about a third was for renewable energy and energy efficiency, while a large share went to transmission, distribution and policy reform.
For many countries, IBRD and IDA remain their largest single external source of funding for energy projects. This finance produces matching volumes of investment from public and private sectors, as well as multilateral and bilateral donors. The goal is to double the current leveraging of this lending. The Bank is planning future energy project financing to advance the Sustainable Energy for All goals.
The Bank will also continue to support capacity building, technical assistance and knowledge services to help countries expand access, and do so sustainably.