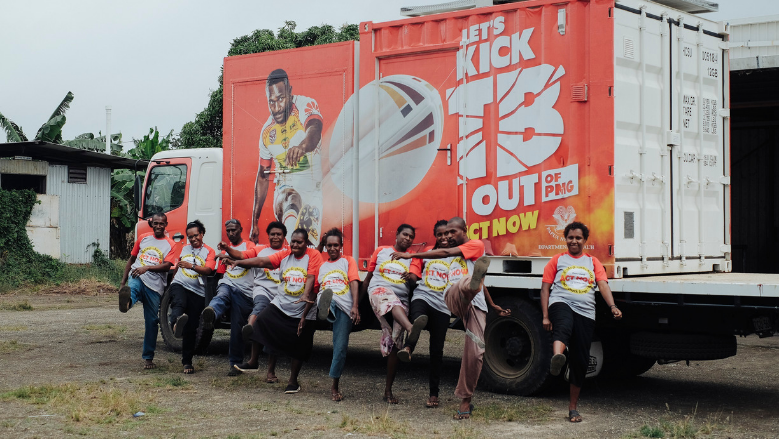 The custom-built, mobile x-ray screening van is now a major new weapon in the fight against the spread of Tuberculosis (TB) and Multi Drug-Resistant TB (MDR-TB) in Papua New Guinea (Tom Perry / World Bank)
The World Bank's Multi-Donor Trust Fund (MDTF) for the integration of externally financed health programs was set up to help developing countries sustain progress on Universal Health Coverage (UHC). As their economies develop, lower-middle income countries (LMICs) tend to face challenges in transitioning from externally financed health programs to spending more of their national budget on health. The MDTF assists them in effectively managing this "health financing transition".
The fund supports policy-relevant analytical work, provides resources for targeted in-country technical assistance, and funds global/regional knowledge sharing activities. It also supports co-financing of health system strengthening interventions to improve outcomes for communicable diseases such as immunization, HIV, TB, malaria, and health security that are affected by both the epidemiological and health financing transitions.
The MDTF finances four activity pillars:
(i) Pillar I: comprehensive health financing systems assessments (HFSAs) and other related health financing analytical activities (WB-executed);
(ii) Pillar II: in-country technical assistance and capacity building (WB-executed);
(iii) Pillar III: other in-country knowledge generation activities and regional/global knowledge exchange activities (WB-executed); and
(iv) Pillar IV: co-financing of WB health systems strengthening projects (Recipient-executed).

Supporting partners
The MDTF is supported by several partners namely Australia's Department of Foreign Affairs and Trade (DFAT), the Bill & Melinda Gates Foundation (BMGF), Gavi, and the Global Fund (GF). Their support for the MDTF currently covers countries in the World Bank's East Asia and Pacific (EAP) region and Africa. They fund program areas that assist countries in dealing with HIV, TB, and malaria; transitioning from external financing for immunization; and addressing health security issues.