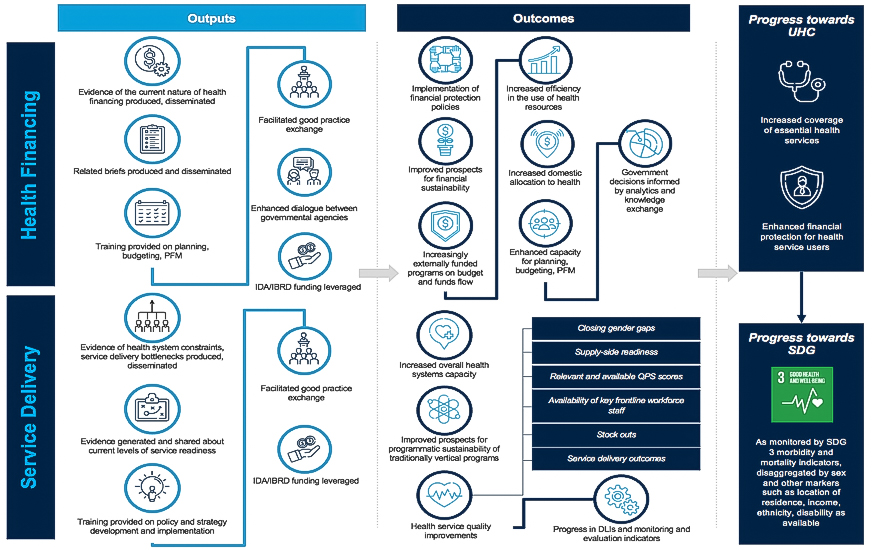 Theory of Change—How the Advance UHC Multi-Donor Trust Fund contributes to Universal Health Coverage
Universal health coverage means people can access the essential health care they need without experiencing financial hardship. The Advance Universal Health Coverage Multi-Donor Trust Fund (Advance UHC MDTF) was initiated by the Australian Government's Aid Program through its Department of Foreign Affairs and Trade (DFAT) in 2015 to support 13 countries across Southeast Asia and the Pacific equitably expand UHC. The Advance UHC fund has since attracted additional finance from partners including Gavi, the Global Fund, and the Bill & Melinda Gates Foundation who have recognized it as a valued contribution to national health policy debate and an example of enhanced coordination between partners.
The Advance UHC MDTF promotes equitable expansion of UHC by assisting lower-middle income countries to continue to improve the use of precious financial, human and other resources for more effective and sustainable essential health services and systems. The Trust Fund recognises the significance of gender inequality and actively seeks to address gender equity issues on the path toward UHC.
Advance UHC MDTF investments stimulate national health sector dialogue and policy reform by providing:
· Analysis on health financing and service challenges and how these might be addressed;
· Resources for targeted in-country technical assistance;
· Funding that promotes global and regional knowledge sharing activities;
· Co-financing support for health system strengthening interventions to improve health and health system performance outcomes that are affected by the epidemiological, nutrition and health financing transitions.
Management and implementation of the fund draws on the World Bank's comparative advantage in convening the joint engagement of the ministries of health, finance and planning. MDTF-supported activities are integrated into the World Bank's country programs and are discussed with respective governments and stakeholders during annual progress reviews and when new programs are being designed.
You can read more about what the World Bank is doing globally to support UHC here.