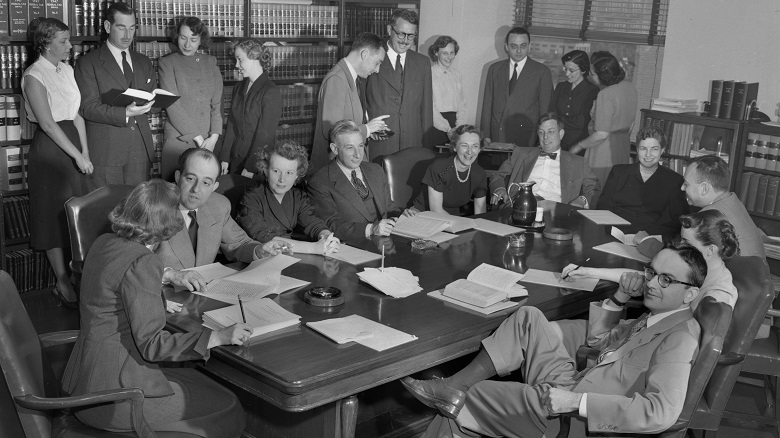 The World Bank opened its doors on June 25, 1946, nearly 2 years after its Articles of Agreement had been drafted at the Bretton Woods conference in New Hampshire. The Second World War ended a year before the opening day, and the devastation was still felt: 60 million people had died and millions more were displaced; infrastructure in Europe, Japan and elsewhere was destroyed; and many countries were struggling financially. The promise of achieving peace and prosperity through multilateralism was fragile and new, and few individuals understood the Bank's mission. No longer the purview of country officials and diplomats, the work to make the Bank operational became the responsibility of its first contingent of staff.
Seventy-five years later, the WBG Archives celebrates the first day of work with a video highlighting the archival holdings that illuminate these early years; the video is located in the righthand column of this exhibit. We're also excited to launch our new WBG Archives website, with functionality and tools that improve discovery of our holdings, in addition to a new Country Director database.
What was it like to work for this fledgling organization? In the first several months there were 30 or 40 staff and they occupied offices on a single floor of 1818 H St. in Washington DC. Staff began the work to create policies and practices that enabled the Bank's first operations, like the first loan to France for reconstruction and the first development loans to Chile. They had to learn what their clients needed, so they corresponded with government officials, considered loan applications, and went on mission to study countries' economies.

"It was a pretty [small and] informal arrangement, particularly before McCloy came. Before that time, it was largely a matter of trying to get organized, and there was no one big enough or established enough to be dominant, particularly." -- Donald Fowler, Administration Department, 1946-1963, Oral History Transcript


At first, most staff were from the United States and Europe, but over time that changed. By 1951, there were staff from 14 countries, and that rose to 107 countries by 1971. On the operational side, staff brought skills in finance, economics, and engineering. On the organizational side, staff put in place the necessities of payroll, personnel, budget, public affairs, support for the Board of Executive Directors, and more.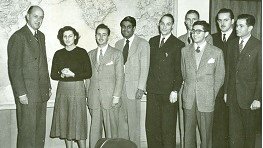 Staff quickly formed a close-knit community, and when Eugene Black became president in 1949 a sense of family and belonging really took hold. Many staff, including their spouses and families, were new to the Washington DC area, and a network of mutual support grew. Staff created an internal newsletter where they provided updates about work, but also shared personal news like holiday travel plans, marriage and birth announcements, and interests such as reading, cooking, sports, and more. There was a bowling league, picnic outings for families, and special events at holidays. The newsletter, International Bank Notes, is a window into the community spirit that staff enjoyed, and provides first-hand accounts of field work around the world.

"We had a wonderful camaraderie and relationship among all of the staff, including the president, Mr. Black. Mr. Black would walk in and out of our office. He always would seem to call us by name. If he didn't call you by name, you still felt as if he knew you personally. We had picnics in those days, and we all got to know each others' children and spouses." -- Mary Wolfe, Accounting Department 1951-1984, Oral History Transcript


Prior to June 25, 1946, the World Bank was only an idea, and it was the commitment of member countries and the staff of the organization that formed the foundation to put the idea into action. Over time, staffing increased and their skills and expertise broadened into new sectors and development approaches, always to meet the changing needs of the organization's members.