The World Bank Group Historical Timeline offers an engaging way to learn about the important moments in the history of the World Bank while discovering the gems of the World Bank Group Archives. Through more than 100 key events, the timeline tells the story of how the World Bank's mission evolved from a facilitator of post-war reconstruction and development to its present-day mandate of worldwide poverty alleviation and the promotion of shared prosperity.
But the World Bank Group Historical Timeline is more than just a chronology of events. Want to learn more about a specific topic? Either browse through the timeline using the arrows or use the Search function to identify events that interest you. Then click on the "Learn More" button to access some of the hundreds of resources curated by the Archives that help illustrate each event. In addition to archival records and photographs, you can view audio/video recordings, readWorld Bank-authored reports, and link to oral history transcripts, project profiles, online exhibits, and presidential profiles.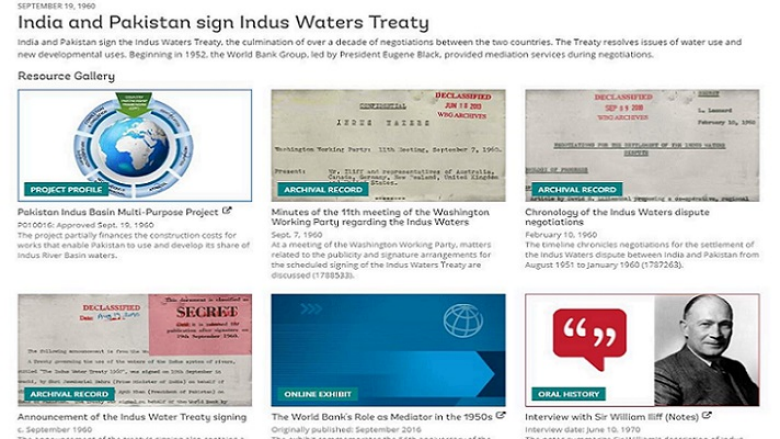 Return regularly to the timeline, as we will be periodically expanding its scope through the addition of "sub-timelines." These additions will focus on specific topics, countries, or institutions in the World Bank Group's history and will provide the same fascinating resources available in the main timeline.
We hope that the World Bank Group Historical Timeline will serve as both an exploration into the history of our institution as well as an initiation into the holdings and resources provided by the World Bank Group Archives.
Archivists' Chronology
Most of the events in the World Bank Group Historical Timeline were carefully selected from the World Bank Group Archivists' Chronology, a comprehensive timeline of key events maintained by World Bank Group archivists. If you are interested in a more expansive history of the World Bank Group, we invite you to download the Chronology, linked below.
Many of the items in the Chronology are "firsts" that document the first occurrence of significant events, such as the first lending for each member country, the first meetings of consultative groups, the first lending in a particular sector, etc. The chronology also includes membership dates for all member countries in each institution within the World Bank Group as well as appointment and retirement announcements for prominent Bank staff.
The Chronology was initially conceived as a means of providing Archives' staff with historical information to assist them in their work. The product was maintained and added to by numerous archivists over many decades. Thus, it contains some inconsistencies in style and substance. Readers are encouraged to cross-reference any statements for accuracy.