Biodiversity is our planet's wealth. It is a cornerstone of development, and its loss threatens many hard-won development gains. For instance, the loss of forests means the loss of carbon sinks, further accelerating climate change. The Amazon used to sink 5 percent of annual carbon emissions, but that is no longer the case. In the first six months of 2022 alone, 1,500 square miles of Amazon forest – an area more than twice the size of Beijing - was destroyed. Further, 40 percent of all conflict is caused, made worse, or financed by natural resources.
Biodiversity blunts the impact of other crises, like climate change and conflict, on development; it is also the wealth of poor nations and poor communities within nations as a producer of jobs and GDP. Take the fisheries sector, where 60 million jobs globally are tied directly to fishing and fish farming. For every one of those jobs, 2.5 more are created in the fisheries value chain. That is 200 million jobs, 60 percent of which are in the developing world. The same can be said for industries such as forestry and nature-based tourism.
We cannot ignore that nature and biodiversity loss is a material risk to our economies, our financial sector and therefore to development. Malaysia is a good example. A recent World Bank report found that in the case of a partial ecosystem collapse, Malaysia – one of the most biodiverse countries in the world – could suffer 6 percent annual loss of its GDP by 2030. That's a scale of loss similar to the COVID crisis of 2020. A recent study we carried out along with the Bank Negara, Malaysia's central bank, found that more than half the commercial loans made by the banking sector are to sectors which are highly dependent on ecosystem services, and almost 90 percent are to sectors which themselves have a high impact on ecosystems.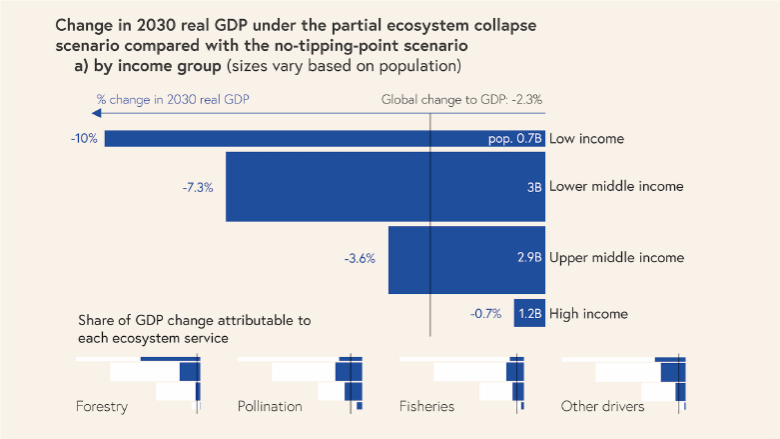 Source: World Bank.
Around the world, nature -- the biodiversity of living organisms and accompanying ecosystem services they provide -- are vanishing at an unprecedented rate and scale with already catastrophic implications for economies and livelihoods. This loss and degradation of biodiversity affects the poorest economies most.
More than 50% of global GDP, $44 trillion in economic value, depends on natural resources.
Nature does not need us, but we need nature
Natural capital -- assets like forests, water, fish stocks, minerals, biodiversity, and land – is undervalued and unaccounted for. As a result, its loss is not properly recognized. Timber that is produced and sold at the expense of deforestation will have a positive impact on a country's GDP. And yet, the country's wealth is depleted and its future jeopardized.
We do, however, have a way to understand the losses from overexploitation and the opportunities from preservation. Using natural capital accounting (NCA) to measure the contribution of natural capital to a country's wealth and development opportunities demonstrates how shifting investments toward nature-smart actions and behaviors can simultaneously contribute to sustainable growth, fight climate change, and preserve nature.
Natural capital accounting is a systematic way to measure and report on stocks and flows of natural capital. It helps decision makers understand how the environment interacts with the economy. The World Bank's Global Program on Sustainability provides tools and expertise for governments and the financial sector as they integrate NCA and other environmental and sustainability considerations into public and private decisions.
Consider what is at stake: more than half of global GDP is generated in industries that are highly or moderately dependent on ecosystem services, such as pollination, water filtration, and raw materials. Renewable natural capital, including land assets like agricultural soil and forests, and blue assets like fisheries and mangroves, account for 23 percent of the wealth in low-income and 10 percent in lower-middle income countries.
Across countries and markets, nature is an economic linchpin but one that is undervalued, underpriced and underinvested in.
More than 75% of food crops rely on animal pollination – but over 40% of known insect species have declined in past decades.
Conserving and restoring our planet's nature is a critical development issue. It should not be seen as charitable, rather it is crucial in order preserve the economic well-being on which our lives and livelihoods depend. As we convene at the United Nations Biodiversity Conference (COP-15), we have the tools to actualize the economic contributions of nature and biodiversity in order to influence economic decision making so that investors and policymakers can eliminate the blind spots that are trading away our future prosperity.