ICA Section of International Organisations (SIO) 2023 Conference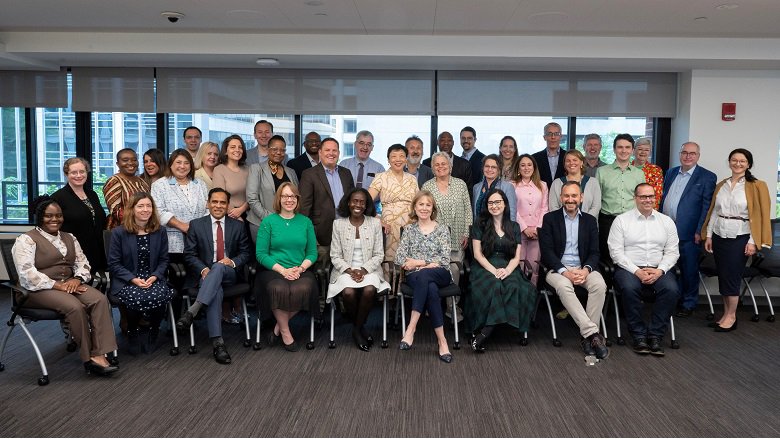 From May 15-17, 2023, the World Bank Group (WBG) and the International Monetary Fund (IMF) welcomed archivists, records managers, and information professionals from around the world for the 48th Annual Meeting of the International Council of Archives' (ICA) Section of International Organisations (SIO).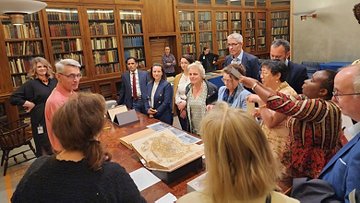 Conference attendees enjoyed a wide-ranging program of presentations and round tables on issues and initiatives relevant to the archives of international organizations. Representatives from more than a dozen organizations presented on topics such as support for Truth and Reconciliation Commissions, e-signature preservation, and evacuation of records in challenging security circumstances. As a co-host organization, the WBG Archives staff was given the opportunity to report on a number of its recent activities and accomplishments, such as records management implementation in SharePoint, increasing access to archival holdings, designing and implementing our Records Management Roadmap, and more. Dr. Claude Roberto, President of the ICA Expert Group on Advocacy, led a workshop on the final day of the conference focusing on strategies for archival advocacy within the context of international organizations. Attendees were also treated to a field trip to the US Library of Congress.
The SIO Annual Meeting is a valuable opportunity for information professionals from international organizations to engage, share their experiences, and inspire one another. All international organizations are more effective when strong archives and records management programs are working from within. The World Bank Group was honored to host so many professionals who are leaders in this field.
Monday, May 15, 2023

48th Annual Meeting of the ICA Section for International Organisations | Day 1

08:30 – 08:45
Registration / Security / Opening of Day 1 at the World Bank (WBG)
08:45 – 08:55

Opening of Annual Meeting

Welcome by Chair / Introduction to Steering Committee

08:55 – 09:35

ICA-SIO Steering Committee

Updates (Montserrat Canela & Jan Lohman)
Call for Participation – Working Group on Statutes
ICA-SIO Initiatives
ICA-SIO Group Photograph

09:35 – 10:35

Round Table – Part I

Presided over by Montserrat Canela and Jing-Wen Yang

10:35 – 10:55
Tea & Coffee Break / Networking
10:55 – 11:40
ACCESS TO RECORDS – PART I
Breaking Down Barriers to Access
Kimberly Brenner Delp and Ann May, World Bank Group
11:40 – 11:50
Questions
11:50 – 12:40
ACCESS TO RECORDS – PART II

Archives of International Organisations, a Legacy for Dealing with the Past.

Moderated by Sahar Ammar, Program Officer, Swisspeace, Dealing with the Past Program

Participants: Lisa Ott, Swisspeace; Trudy Huskamp Peterson (consultant), Stephen Haufek, UN-NY
12:40 – 13:30
Lunch / Networking
13:30 – 18:00
Professional archives visit to US Library of Congress
Tuesday, May 16, 2023

48th Annual Meeting of the ICA Section for International Organisations | Day 2

08:30 – 08:45
Registration / Security / Opening of Day 2 at the World Bank (WBG)
08:45 – 09:00

Opening of Day 2 (The World Bank)

Elisa Liberatori Prati, Chief Archivist Emeritus, World Bank Group
Robert Malloy, Acting Director, World Bank Group

09:00 – 10:00

Host Presentation

WBG Archives & Records: Strategic Direction – Pipelines for Preservation

April Miller, Paloma Beneito Arias & Jeanne Kramer-Smyth, World Bank Group

10:00 – 11:00

Round Table – Part II

Presided over by Montserrat Canela & and Jing-Wen Yang

11:00 – 11:30
Tea & Coffee Break / Networking
11:30 – 13:00
DIGITAL RECORDS / RECORDS MANAGEMENT
A Simplified Retention & Disposition Approach for our Records Management Implementation in SharePoint Online
Thomas Gkremo, The World Bank
The legal and technical consequences of expired or revoked e-signature certificates in records that require long term preservation
Thomas Zijderveld and Joao Marques-Correia, EUROPOL
Use of the WBG's Records Management Roadmap in the Bank's operational project work and in support of good governance in our member country government administrations
Loida V. Faustino, The World Bank – Philippines and, Catherine Kathuni, The World Bank - Kenya
13:00 – 14:00
Lunch / Networking
14:00 – 14:40
MANAGING RECORDS DURING AN EMERGENCY
Evacuation of large quantities of records in challenging security circumstances (Case: OSCE former Missions in Ukraine)
Irena Krasnicka, OSCE
Managing the Records of Past and Present Emergencies
Montserrat Canela, UNHCR
14:40 – 14:50
Questions
14:50 – 15:20
Tea & Coffee Break / Networking
15:20 – 16:10
PROJECT SHOWCASE & KNOWLEDGE SHARE
The Role of Archives in Supporting the Transparency and Accountability Agenda of Multilateral Development Banks (MDB): The Experience of Asian Infrastructure Investment Bank (AIIB).
Sharif Khandaker, Asian Infrastructure Investment Bank (AIIB)
Active Management and Streamlined Processes of Audiovisual Meeting Recordings
Jingwen Yang, UNFCCC
Nuclear Heritage: Material Practices Anticipating and Resourcing Distant Future in the Present and the IAEA Archives
Gabriella Ivacs, International Atomic Energy Agency (IAEA)
16:10 – 16:15
Closing Remarks of Day 2
19:00 – 21:00
Social/Networking Event
Wednesday, May 17, 2023

48th Annual Meeting of the ICA Section for International Organisations | Day 3

08:30 – 08:45
Registration / Security / Opening of Day 3 at the International Monetary Fund (IMF)
08:45 – 09:00

Opening of Day 3 (International Monetary Fund)

Shirin Hamid, Director & Chief Information Officer (ITDAI)

09:00 – 10:00

Host Presentation

Information Governance and Preservation (IGP): From Bretton Woods to the Era of AI

Marc Levitt & Emmanuelle Pyrz, International Monetary Fund

10:00 – 11:00
Workshop Session I
In cooperation with the ICA Expert Group on Advocacy
Dr. Claude Roberto, President of the ICA Expert Group on Advocacy
11:00 – 11:30
Tea & Coffee Break / Networking
11:30 – 12:30
Workshop Session II
In cooperation with the ICA Expert Group on Advocacy
Dr. Claude Roberto, President of the ICA Expert Group on Advocacy
12:30 – 13:30
Lunch / Networking
13:30 – 15:00
Workshop Session III
In cooperation with the ICA Expert Group on Advocacy
Dr. Claude Roberto, President of the ICA Expert Group on Advocacy
15:00 – 15:30
Tea & Coffee Break / Networking
15:30 – 17:00
Workshop Session IV

In cooperation with the ICA Expert Group on Advocacy

Including workshop wrap-up

Dr. Claude Roberto, President of the ICA Expert Group on Advocacy
17:00 – 17:15

SIO Steering Committee

Announcement of hosts for the 49th SIO Annual Meeting
Any other business
Questions