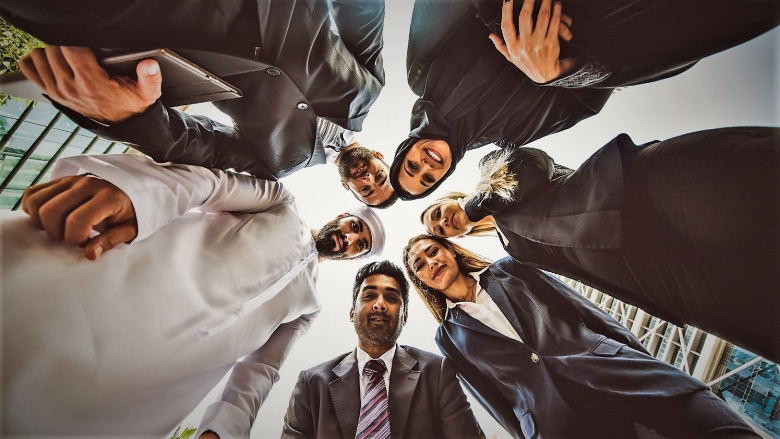 The Recruitment Drive for Saudi Nationals is now closed. Only shortlisted candidates will be contacted and invited for interviews. please continue to visit our career site for other recruitment drives and employment opportunities that match your profile.
As an institution, the World Bank Group (WBG) is committed to hiring staff that mirror the diversity of the clients we serve and the partners we work with in more than 180 member countries around the world.
The Bank Group's recruitment policy is to hire staff of the highest caliber, on as wide a geographical basis as possible, with preference to nationals of WBG member countries or countries of operations.
To this end, the WBG is launching a Fellows Program to identify, grow and develop professionals from the Middle East and Africa (MNA). The MNA Fellows Program will recruit nationals from MNA countries for immediate or future placement opportunities at the WBG headquarters in Washington, or in any of our country offices.
Ultimately the program seeks to: increase representation of MNA nationals at the WBG; increase the number of nationals from MNA countries selected into the WBG Young Professionals Program; and build skills of young talent in technical areas of critical importance to the development of the MNA region. Key features of the program will include mentoring and leadership development.
Selection Criteria
The program will target highly talented and promising graduate candidates from MNA countries- with an initial focus on nationals from the Kingdom of Saudi Arabia. The selection of the Fellows will be conducted in a manner consistent with the World Bank Group recruitment policies and procedures.
To be eligible for the Program the candidates must:
• Be nationals of Saudi Arabia
• Have a Master's degree, with ideally 2 years of relevant work experience
• Be fluent in English
• Be committed to International Development
• Women are particularly encouraged to apply
Application
To apply, please review the positions advertised below and apply using the application link. Only candidates selected for the MNA Fellows Program will be contacted.
For more information please send us an email at MNAFellowsProgram@worldbankgroup.org
E T Consultant - Operations Analyst ( World Bank | req4911 | EC1 )

E T Consultant - Operations Analyst ( World Bank | req4912 | EC1 )
E T Consultant - Water Resources Management Specialist ( World Bank | req4904 | EC2 )
E T Consultant - Human Development ( World Bank | req5013 | EC1 )
E T Consultant - Human Development ( World Bank | req4869 | EC1 )
E T Consultant - Associate Counsel ( World Bank | req4943 | EC1 )
E T Consultant - Digital Development Analyst ( World Bank | req4903 | EC1 )
E T Consultant - Research Analyst ( World Bank | req4933 | EC1 )
E T Consultant - Energy Analyst ( World Bank | req4902 | EC1 )
E T Consultant - Human Resources Business Partner, Client Services ( World Bank | req4942 | EC2 )
E T Consultant - Natural Resources Management Specialist ( World Bank | req4900 | EC1 )
E T Consultant - Research Analyst ( World Bank | req4907 | EC1 )
E T Consultant - Investment Analyst ( IFC | req4908 | EC1 )
E T Consultant - Investment Analyst ( IFC | req4909 | EC1 )
E T Consultant - Photo/ Video Archivist ( World Bank | req4920 | EC1 )
E T Consultant - IT Analyst, Engineering ( World Bank | req4921 | EC1 )
E T Consultant - Junior Business Analyst ( World Bank | req4922 | EC1 )
E T Consultant - Oracle Developer ( World Bank | req4923 | EC1 )
E T Consultant - IT Sourcing and Contract Management ( World Bank | req4924 | EC1 )
E T Consultant - IT Analyst, Security, Risk and Compliance ( World Bank | req4925 | EC1 )
E T Consultant - Historian ( World Bank | req4926 | EC1 )
E T Consultant - Data Scientist ( World Bank | req4938 | EC1 )
E T Consultant - IT Analyst ( World Bank | req4939 | EC1 )
E T Consultant - Archivist ( World Bank | req4940 | EC1 )
E T Consultant - External Affairs Associate ( World Bank | req5004 | EC1 )
E T Consultant - Leadership Development Analyst ( World Bank | req4945 | EC1 )
E T Consultant - Digital Engagement Strategist ( World Bank | req5007 | EC1 )
E T Consultant - External Affairs Associate ( World Bank | req5015 | EC1 )
E T Consultant - Economist ( World Bank | req5010 | EC2 )
E T Consultant - Resource Management Analyst ( World Bank | req5047 | EC1 )